Scottish Rite Masons announce newest NASCAR team
January 05, 2007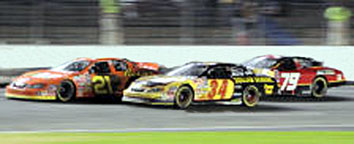 The #34 Chevrolet Monte Carlo fielded by the team of Frank Cicci Racing, based in Mooresville, NC, will be competing in the 2007 NASCAR Busch Series on behalf of the Scottish Rite Masons. Veteran Brian Conz of Livonia, MI will become the car's newest driver and become part of the oldest running team in Busch Series history, celebrating its 20th season next month. The announcement will be made official January 6, 2007 at the Scottish Rite House of the Temple in Washington, D.C.
Conz, himself a 32-degree Scottish Rite Mason, began his career in 1988 in the Street Stock Division. He moved to the ARCA/REMAX Series in 1996. He has 15 wins, 79 top fives and 108 top 10 finishes to his credit and is in the running for the 2007 Raybestos Rookie of the Year honors.
The Scottish Rite is part of the "Family of Freemasonry," the oldest and largest fraternal organization in America, dating back to 1730. Many famous American men have been Masons, including fourteen presidents from George Washington to Gerald Ford. The Scottish Rite sponsor 225 speech and language clinics for children across the country, part of the $2 million a day or $750+ million a year American Masonry spends on philanthropy.
"We are so excited and privileged to have such an honorable organization associated with us. We look forward to a long-lasting relationship with the Scottish Rite and Brian," said owner Cicci, whose team has chalked up 743 starts and 19 victories.
Scottish Rite Racing will compete in the 2007 NASCAR Busch Series beginning at the Daytona International Speedway in Florida on February 17th for the full 35 race schedule.
The Scottish Rite Cathedral in Joplin is located at 505 S. Byers. For more information about membership phone (417) 623-3219.