Quilt museum elevates craft to art form
June 09, 2013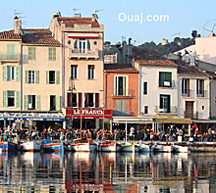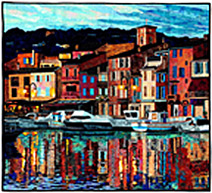 Port of Cassis, France as seen through the camera lens, at left, and as interpreted by a quilter's needle, at right

PADUCAH, KY - At the National Quilting Museum there's a strict rule about not touching the quilts and fabric art hanging throughout the 27,000 square feet of exhibit space. But wanting to reach out and feel what's on display is an understandable temptation for many of the 40,000 annual visitors who can't believe what they're seeing.

"If not already a believer, everyone who visits the museum, a 27,000 square foot facility in downtown Paducah, Kentucky, leaves converted as to the magnificence behind the museum's many masterpieces," says Museum CEO Frank Bennett who believes that many of the quilts are mistaken for photography, oil paintings or other visual art forms.

"What's more, they come away with a new sense of respect for what's been one of the most misunderstood, yet growing art forms in the world. When people think 'art,' quilting doesn't pop into mind, and that's a mindset we're changing," Bennett adds.

Bennett, 37, a business writer and former consultant, put his own business aside two years ago to assume the leadership of what he considers the largest destination museum dedicated to quilting and fiber art.

According to the "Quilting in America™" 2010 study, 14 percent of United States households are home to at least one quilter, with an estimated 21 million quilters nationwide. Dedicated quilters, or those spending $600+ on quilting annually, tend to be affluent ($91,602 household income) women who annually spend $2,442 on average. At 62-years-old, they're a little younger than the average golfer and started quilting, again on average, when they were 46.

"Unfortunately, quilting has often been seen as second-tier art largely because the most-esteemed quilt artists are women, and some people within our society still don't truly respect women as equal in art circles, Bennett says. For example, I often ask an audience of people not involved with the arts to name one woman artist who is nationally respected — most can't do it. They can name Picasso, Monet, Dali, and several other famous men, but no women. Getting quilting on the radar of the arts requires eradicating such stereotypes and their symptoms. If a person truly judges the work without any bias toward the artist or the materials, they will see that it deserves the same respect that other forms of art receive."

The non-profit National Quilt Museum is located at 215 Jefferson, Paducah, Kentucky. Hours are 10 a.m. to 5 p.m., Mondays through Saturdays and 1-5 Sundays between March 1 and November 30. It is closed on Easter Sunday, Thanksgiving Day, Christmas eve and day and New Year's Day.

Admission is $11 for adults, $10 for seniors 60 and over, $5 for students and free for children 12 and under when accompanied by a paying adult. Group rates are available as well as guided tours and hands-on activities. For more information phone (270) 442-8856, ext. 209 or send an e-mail here.