New guides for ID-ing Missouri birds and flowers
May 24, 2007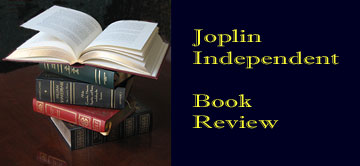 by Dr. Stephen L. Timme,
professor of botany and director and curator of the Theodore M. Sperry Herbarium, Department of Biology, Pittsburg State University, Pittsburg, KS
Michael Roedel and Gregory Kennedy's book titled Compact Guide to Missouri Birds published by Lone Pine Publishing International provides the beginning birder an excellent field guide to the more common birds in the state. The book is divided into numerous sections beginning with a quick reference guide arranged by different groups of birds and followed by an introduction that explains how to use the guide, how to determine the species' range, and the top birding sites in Missouri.
The species' accounts are excellent sources of information that will help the beginning birder learn characteristics and other pertinent information. Each species' account includes a common name, scientific name, habitat, size, calls, status on residency in the state, and color illustration.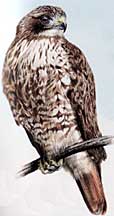 The Red-tailed Hawk (Buteo Jamaicenis) is the most common of the hawks in Missouri, especially seen in winter. Distinguishing characteristics include a red tail, a dark band of streaks across the belly, and dark upperparts with some white highlights.
"Courting Red-tails will sometimes dive at one another, lock talons and tumble toward the earth, breaking away at the last second," Roedel and Kennedy tell the reader.
Each illustration shows important field marks for identifying the bird. Each account also compares the species to a similar one to show differences and provides information about nesting and a color illustration of the species' egg.
An additional feature is a "Did You Know" and "Look For" section that offers interesting information about the birds as well as a single key characteristic that is generally unique to the animal. Lastly, there is an index that allows the user to check off the birds he or she has identified in order to start a life list.
Although the guide is limited only to the more common birds of Missouri, it is an excellent source for the beginning birder to learn how to use a field guide for the identification of birds and their characteristics. A few misspellings were noted but the ease of use of the guide overshadows these flaws. The book is highly recommended for the first-time birder.
--
Another information reference for Missourians published by Lone Pine Publishing International is Best Garden Plants for Missouri. It is co-authored by Anita Joggerst and Don Williamson. The introduction provides the user knowledge on how to get started creating a plant garden and general information on groups of plants. The accounts are color coded at the top of each page and are divided by annuals, perennials, trees and shrubs, roses, vines, bulbs, and herbs and ferns, grasses and groundcovers.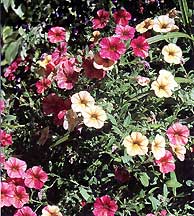 Million Bells (Calibrachoa) is an extremely floriferous, low growing, compact and vigorous plant that tolerates the summer heat of Missouri and requires no dead-heading (pinching off of spent flowers). It grows in full sun and fertile, moist and well drained soil.
According to Joggerst and Willimson, the Superbells Series is noted for supeior disease resistance and a wide range of uniquely colored flowers.
Each account provides a common name, a genus name, some information on growing the plant, tips, species that are recommended, a color photo of one of the species or cultivars mentioned, and a features section that covers foliage, flowers, general height of plants, how far they tend to spread, and hardiness zones. Following the accounts are a glossary of terms and an index of species.
While the book concentrates on cultivars and cultivars of native species--for instance, none of the native maples is mentioned under the maple account, only "exotic" or cultivars--it is interesting that it does contain a section on Grow Native TM. Although it does provide some useful information on cultivars, it lacks details on soil preparation, fertilizers and how to use them, or how a cultivar or species is compatible or incompatible in both color and competition to native varieties.
The book does provide the reader a selection of illustrated plants, but it should be noted that several of them are not available at many smaller local nurseries. Where to buy them at online or regional nurseries would be of benefit.
---
Title - Compact Guide to Missouri Birds
Author - Michael Roedel and Gregory Kennedy
Publisher - Lone Pine Publishing International (2006)/196 pp./$13.95
Versions in paperback --ISBN-10: 976-8200-02-2 and ISBN-13: 978-076-8200-02-0


Title - Best Garden Plants for Missouri
Author - Anita Joggerst and Don Williamson
Publisher - Lone Pine Publishing International (2007)/176 pp./$16.95
Version in paperback --ISBN-13: 978-976-8200-12-9

---