Oklahoma to monitor and post algae blooms
June 14, 2012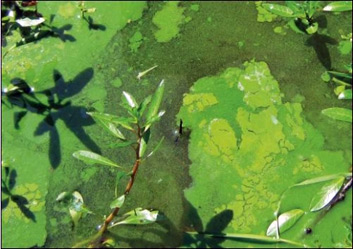 This is an example of a blue green algae bloom in a lake. (Photo compliments of the Oklahoma Dept. of Environmental Quality)
OKLAHOMA CITY - The Oklahoma Tourism and Recreation Department has developed a new website which allows the public to check recreational water quality at Oklahoma lakes and rivers and provides educational information related to blue-green algae levels.
The website, found here, is the result of legislation (Senate Bill 259) signed by Governor Mary Fallin, which establishes the first statewide policy for response to outbreaks of toxic blue-green algae blooms in Oklahoma's recreational bodies of water. The legislation takes steps to protect both public health and Oklahoma's rural economies that are dependent on tourism from the state's lakes and rivers.
"Oklahoma's more than 200 lakes and miles of rivers are recreational draws, but they are also complicated eco systems susceptible to environmental and weather conditions," said Deby Snodgrass, executive director of the Oklahoma Tourism and Recreation Department. "This legislation provides Oklahoma with the foundation to deal in a safe and measured way with the increase in blue-green algae outbreaks."
From Minnesota and Ohio to California and Florida, many of the nation's bodies of water are reporting a rise in the growth of photosynthetic bacteria known as blue-green algae (BGA). BGA generally grows in lakes, ponds and slow-moving streams when the water is warm and enriched with nutrients such as phosphorus or nitrogen. All bodies of water contain these ancient and primitive organisms. They do not pose significant health risks until they bloom. The most common time of year for blooms is during the summer months when plenty of sunlight is available and water temperatures climb.
"Last summer, many Oklahoma lake-goers stayed home after an outbreak of toxic blue-green algae blooms at a handful of our lakes. As a result, small businesses that depend on Oklahoma's $6.2 billion tourism industry were negatively impacted even though the majority of the lake areas were safe," Snodgrass said. "Certainly, public health and safety are our first priority. Through education, we can address both public wellness and economic concerns. Our mandate is to teach the public how to identify toxic blue-green algae so they can avoid contact and minimize potential health consequences."
Most species of blue-green algae float to the surface after blooming, creating green scum layers or floating mats. To protect themselves and their pets, lake-goers should avoid making contact with or ingesting water that looks like pea soup, green or blue paint or that has puffy blobs floating on the surface. "It's easy to remember: 'If it's green on top – STOP,'" Snodgrass said.
"All Oklahomans need to know how to identify blue-green algae so they can avoid water with visible algae accumulation or discoloration and keep pets and livestock away as well. As an added precaution, lake goers are encouraged to check recreational water quality at www.CheckMyOKLake.com before visiting an Oklahoma lake to see if there are any blue-green algae advisories posted," Snodgrass added.
Oklahoma lake managers, such as the U.S. Army Corps of Engineers, Oklahoma Department of Environmental Quality and municipalities, will report blue-green algae counts and advisories for inclusion on the website.
In addition to the website developed and maintained by the Oklahoma Tourism and Recreation Department, Senate Bill 259 requires lake managers to place signs at major access points that refer lake users to the blue-green algae website; directs the Oklahoma Department of Health to educate health care providers on the effects and symptoms of exposure to toxic blue green algae; utilizes the World Health Organization guidelines for moderate probability of adverse health effects dealing with toxic blue-green algae; sets a standard threshold for issuing an advisory regarding toxin levels for blue green algae and permits privately-funded water testing if the research is scientifically verifiable.
"Oklahomans love the outdoors. Mile for mile, with 12 ecoregions, we have the nation's most diverse terrain. It's important to remember, whether you're in an ecoregion with an abundance of water or not, there are inherent risks. From poisonous snake and spider bites, to bee stings, poison ivy, lightning strikes and car collisions with deer, to microscopic pathogens carried by wildlife, skin cancer resulting from excessive sun exposure and ticks carrying bacteria that cause Lyme Disease, we must educate ourselves and be vigilant," Snodgrass said.
Editor's note: Holy mackerel, maybe, we shouldn't leave the vicinity of our desktops.