Neosho Fish Hatchery: the economics of its trout
April 12, 2006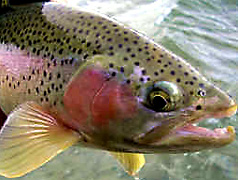 All things spiritual rise. Any ardent angler can testify to the spiritual nature of a rising rainbow trout, the fish named for its iridescent pinkish-red stripe. Even its early scientific name made reference to the mythological Greek goddess of the rainbow, Iris. She personified the union of sky and earth – a messenger to the heavens. Casting to a rising rainbow trout does more than serve up spiritual food that sticks to your ribs. Fishing for rainbow trout reels in big bucks.
A new peer-reviewed study by economist Dr. James Caudill of the U.S. Fish & Wildlife Service shows that when you toss a lure toward a rainbow trout produced by a national fish hatchery, you're also fueling an economic engine that can drive for the long haul.
Using data from 11 of the 70 national fish hatcheries that produced rainbow trout in 2004, including the Fish Hatchery in Neosho, and taking into account the dollar's value in 2004, Caudill has come up with these findings:
Those 11 national fish hatcheries that year raised 9.4 million rainbow trout, providing nearly four million angler-days on the water. Retail sales on things associated with fishing for rainbow trout, like food, gas, lodging, rods and reels, and bait and tackle amounted to $172.7 million. That spending provided employment for 3,502 people and income of $80 million. Those wage earners contributed back to public treasuries; $2.9 million in state income taxes, and $10.6 million in federal income taxes. Fishing for rainbow trout in turn generated a total economic output of $325.1 million.
What Caudill has concluded is that although taxpayers that fund the National Fish Hatchery System paid $5.4 million to produce rainbow trout, every one dollar spent on rainbow trout production that rose up through the economy fueled $32.20 in retail sales and $36.88 in net economic value.
There also is a value-added aspect to rainbow trout produced in National Fish Hatcheries. Embodied in the rainbow trout are an intrinsic 135 years of experience, science, and technology. How to culture rainbow trout is well understood, but not all fish are created equal.
A rainbow trout you find under plastic at your grocer is not the same rainbow trout you might tussle with at the end of your line. Rainbow trout at National Fish Hatcheries are managed by certain brood stocks and strains, with specific standards, for defined management purposes, like facing the rigors of the wild.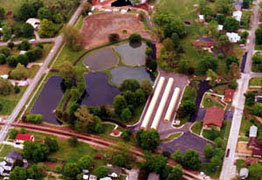 This is an aerial view of the Neosho Fish Hatchery, one of 14 national fish hatcheries with significant responsibilities in rainbow trout production
The oldest operating federal fish hatchery in the United States, the Neosho Fish Hatchery serves 5 geographical areas from the ecosystem of the Missouri Ozarks to that of the Wisconsin Great Lakes. At the time of the study the Neosho National Fish Hatchery stocked 354,504 rainbow trout, creating 161,138 angler-days on the water, which in turn generated $5.8 million in retail expenditures. That spending provided jobs for 110 people.
Yearly over 40,000 visitors tour the Neosho facility located at 520 Park Street. For more information about hours and directions, phone (417) 451-0554.