Joplin gets Freaky
January 09, 2008
Joplin's WMBH, 1560 on the AM radio dial, will be the first "mainland" station to carry the internationally syndicated radio show, "Freaky Friday and Friends" beginning at 11 p.m. on Friday, Jan. 11, 2008. The show had been heard by audiences overseas for the past four years.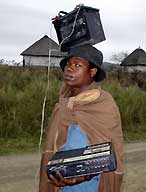 Freaky has labeled this photo the "Haitian iPod" or "an available device for listening to the show."
According to the host, "This is just the beginning. I expect more stations to follow. All we wanted was a shot Stateside. Now we have it. I expect the same snowball effect that happened overseas will happen here too. I intend on re-establishing radio as the prominent theater of the mind that it once was. After Joplin's residents get a taste of what we are about, there will be no question where they will be spending their Friday nights from now on."
Accompanying Freaky Friday as co-host is "Shawn B." Described by them as "always opinionated and sometimes off-the-wall," the show will cover such topics as pop culture, relationships and real life situations. Woven together with listener interaction, the hosts say the show is "edgy" and "'real" in the rawest sense of the word."
About the hosts

Friday, pictured at left with Oprah, was born in Haiti and at the age of 5 moved to New York where he still resides. He's been doing radio since the late 80s.
Shawn B. grew up in New York and has been working in radio for 15 years. He's described as sounding "calm and cool on the air," a counterpart to the freakiness of Friday.
Previous shows have been posted here.
What is WMBH for the uninitiated?
James Hardman, an entrepreneur and head of Hardman Broadcasting Inc., said he saw a niche in the Joplin area market in September 2006 for the creation of the first hip hop and Latino station. Located at 512 E. 32nd Street, Suite 208, WMBH 1560 considers themselves the first radio source for hip hop, R&B, and old school. It features commercials in both Latino and English.
Hardman had no personal connection with the "Freaky Friday" promoters but he said he decided to give their show a shot after they had contacted him. He said that specifics have to be worked out regarding audience participation. It might not happen on the first broadcast but probably a local phone number will be provided eventually.
WMBH, the only station west of the Mississippi to use the "W" in its call letters, originally was founded in 1926 in Chicago, becoming a mobile station with a sports format.
"Share the warmth"
Hardman especially was interested in promoting a drive to benefit men, women and children in the community that are in need of warm coats and blankets. All donations should be dropped off at the Salvation Army, 320 E. 8th St., Joplin. The main office is open from 9 a.m to 5 p.m., Mondays through Fridays. And, of course, donations of money always are welcome.