Craig, stung in stall, professes innocence
January 16, 2008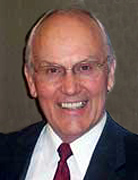 SENATOR LARRY CRAIG
NEW YORK - The American Civil Liberties Union is supporting Idaho Senator Larry Craig's attempt to have his guilty plea withdrawn because the Minnesota law under which he was arrested is "unconstitutionally broad." According to ACLU officials, "the statute punishes 'offensive, obscene or abusive language' which tends to arouse 'alarm, anger or resentment' in others. The group believes that this law clearly has the potential to ensnare and criminalize legal, constitutionally protected free speech, including solicitation for private sex.
Because the Minnesota Supreme Court and other courts have found that a closed bathroom stall is a "private location," the ACLU says that the police have no business spying on people in places where there is an expectation of privacy. They say they are in no way advocating sex in public bathrooms, but if law enforcement is genuinely interested in stopping sex in public bathrooms rather than ensnaring people in sting operations, they suggest posting a sign prohibiting it and announcing police patrols as a much more effective means to curtain the behavior, and that such would meet constitutional requirements.
Craig, 62, who was caught in a sting at the Minneapolis International Airport, had pleaded guilty in writing last August to a misdemeanor disorderly conduct change after a soliciting change was dropped. While Craig faces a Senate ethics committee investigation, he has changed his mind about resigning and vowed to stay in office until the end of his term in 2009. The Republican Senator has not shown interest in seeking re-election this year.