When it rains, it pours...
May 08, 2008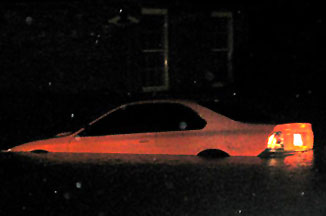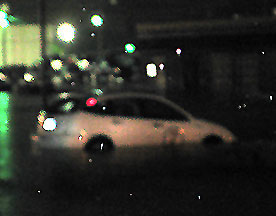 A torrent of water flowed down Illinois and 7th Street after heavy rains that fell throughout the night. The driver of a car that had been marooned in front of Planned Parenthood was not in the area when the photos were taken by a couple of students who had parked their Jeep on high ground nearby. Also, partially submerged nearby in the parking lot in front of Tropical Tan at the same intersection was a car owned by KOAM-TV, channel 7.
A flash flood warning had been in effect since Wednesday afternoon and advisories were issued regarding the need to avoid areas of high water. Yet based upon the number of cars reported stranded to the Joplin Police Department, drivers still thought that they and their cars were invincible. One officer who approached the students wanted to know if they were in need of a tow. When they answered in the negative, reportedly he told them that if they attempted to pass through the high water and became stranded themselves, that he would have to give them a ticket. They assured him that they weren't considering such a move.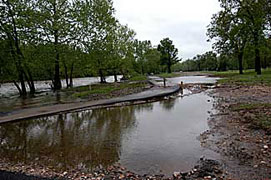 The following day at the south end of town water could be seen in newly created ponds in the parking area at the Jackson Avenue low water bridge. The force of the water had torn up a large section of macadam in a newly constructed parking area and a nearby picnic table was a boat.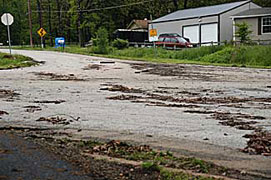 Debris left in the road at the intersection of South Jackson Street and Riverside Drive suggests how the area might have been impacted before the water had receded. Pockets of water still remained in low areas all along South Jackson.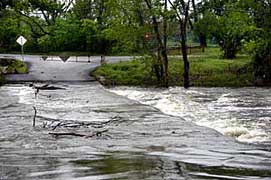 The gates at the low water bridge were closed preventing drivers tempted to make the crossing from being pushed downstream. The water of Shoal Creek passing over the roadbed had created a mini waterfall before it headed west.