Art and edible gardening
May 09, 2008
What put Salina, KS in the news in 2005 wasn't a tornado nor a pedophile but a pragmatic use of space that in today's worsening economic climate would help put food on the table.
Starting in what is known as "the nation's food basket" or "the heartland of America," architect/artist/educator Fritz Haeg designed a prototype aimed at revolutionizing America's front lawns. Initiated on Independence Day 2005, "Edible Estates" proposes the replacement of the money pit front lawn with a highly productive edible landscape of fruits, vegetables and herbs.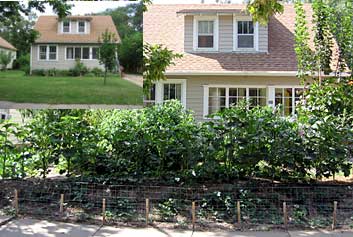 Stan and Priti Cox of Salina, KS offered their typical suburban front lawn as a local test garden for the first application of the Edible Estate project. In cooperation with the Salina Art Center a booklet produced specifically for Salina was distributed for free that included listings of local nurseries; fruits, vegetables and native edible plants recommended for the region and basic gardening tips.
Rarely does one see residents of upscale neighborhoods with their hands in the dirt. Many claim that they haven't the time for such a pursuit, and, instead, hire professional gardeners to do the work for them. Having the greenest, weed-free lawn in the neighborhood is a goal that creates opportunities for chemical-runoff to further pollute local water supplies.
Haeg, a 39-year-old social engineer from St. Cloud, MN, in an interview last summer with Nato Thompson of Creative Time said, "...With the Edible Estates regional prototype gardens I am removing unused, toxic, polluting, water-guzzling no-mans-land spaces and replacing them with productive edible gardens. People are back on the streets reconnected to their local ecology, food and neighbors....."
The issue of creating a food garden in the front of the house rather than hidden in the rear is not without controversy. Admitted Haeg, "For some neighborhoods, it is a very provocative gesture that is upsetting. I think that a society that cannot grow its own food or that is threatened by a garden is in deep trouble."