Scatological mentality defaces town property
June 17, 2008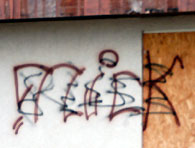 Did a perpetrator leave his name?
The City of Neosho is offering cash rewards for information about persons involved in the vandalism of Neosho's parks, downtown area, and public or private property. Graffiti, broken windows, and other acts of disrespect to property are an insult to the community which works so hard to pay for beautiful parks and sports facilities in the town, Desiree Bridges, speaking on behalf of the city, announced recently.
The information provided must lead to the identification and arrest of the person or persons responsible for such crimes. City employees and family members are not eligible to receive a reward. Rewards are based on the value of the information received.
Citizens with information are encouraged to call the Neosho Police Department at (417) 451-8012 or stop by in person at 201 N. College, Monday through Friday, 8 a.m. to 5 p.m.
---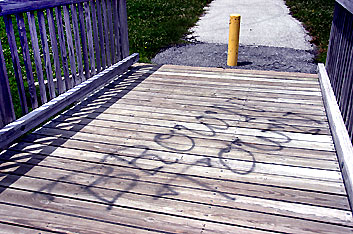 Some graffiti artists are spray painting the area with the verbal expression, "brown town." While, in our ultimate naivety, our first reaction was to equate it to something racist," we learned via an urban dictionary that the expression was far from that. We first saw the expression appearing throughout Parr Hill Park, 18th and Kansas in Joplin but it, sometimes abbreviated to "B.T." is noticeable in other places. The sudden appearance of graffiti suggests a new gang in the area that needs to be taught a lesson, not the least being with rags and some solvent. This is something that Joplin Police Chief Lane Roberts says he is putting on a list of priorities.
---