Pro Musica-Joplin announces 2008-09 season
September 05, 2008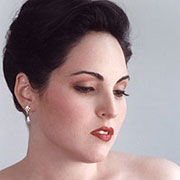 Soprano Arianna Zukerman will appear in Joplin as part of Saint Philip Episcopal Church's 100th celebration of their church building on 7th and Byers. She also will be the first performer in the 2008-09 concert season of Pro Musica. The concert at St. Philip's on Friday, Oct. 3, 2008, will begin at 7 p.m.
Zukerman debuted with the New York City Opera during its 2005-06 season in Mark Adamo's Lysistrata and since then has appeared frequently in solo performances in the US and abroad. A theatre major from Brown University, she received a Bachelor of Music from the Julliard School.
The remaining schedule for Pro Musica includes:
Saturday, Oct. 11, 2008: Antares will perform thir War and Peace concert on Violin, cello, piano and clarinet and will include Oliver Messiaen's Quartet for the End of Time (Quatuor Pour La Fin du Temps) written in a WWII concentration camp as well as music by Stravinski and Shostakovich. It will take place at approximately 7:15 p.m. at the First Baptist Church, 7th & Pearl, Joplin. Prior to the performance at 6:30 p.m. Marlene Pawley, creator and conductor of family and education concerts for the St. Paul Chamber Orchestra, will speak.
Friday, Dec. 5, 2008: Midori, a Japanese artist who made her first recording of the music of Bach and Vivaldi in 1985 at the age of 14 with the St. Paul Chamber Orchestra under the direction of Pinchas Zukerman, will perform on violin. Currently she holds the Jascha Heifetz Chair at the University of Southern California's Thornton School of Music, where she also serves as chair of the strings department. Sponsored by Leggett & Platt, her "Partners in Performance" will take place at 7 p.m. in Webster Hall, Missouri Southern State University, Joplin.
Tuesday, Jan. 27, 2009: Emanuel Ax of Poland, a double Grammy winner who won the first Arthur Rubinstein International Piano Competition in Tel Aviv at the age of 25, will perform at 7:30 p.m. in the Taylor Performing Arts Center, Missouri Southern State University, Joplin. Admission is $15 per adult or $12 for senior citizens and students. A $60 patron ticket includes reserved seating and a buffet reception before the concert.--CANCELED DUE TO WEATHER; REFUNDS AVAILABLE FROM PRO-MUSICA OFFICE.
Thursday, Feb. 26, 2009: The Parker String Quartet, winner of the 2005 Concert Artists Guild International Competition, will perform at 7 p.m., First Presbyterian Church, 509 S. Pearl, Joplin.
Friday, Feb. 27, 2009:The Parker String Quartet will perform a special "nontraditional" concert at 9:30 p.m., Kitchen Pass, 1212 S. Main, Joplin.
Thursday, March 26, 2009: Zuill Bailey on Cello and Simone Dinnerstein on piano will perform. Location TBA. For samples of their music go here.
Friday, June 26, 2009: The annual Joplin PoPs sponsored by Edward D. Jones & Macy's will take place with music played by the Overland Park Civic Band and Kansas City Symphony's Gary Schutza, principal trumpet. Bring your own seating for an evening of music for the family under the stars on the oval at Missouri Southern State University, Joplin. Concert begins at 8 p.m. Picnicking is encouraged prior to the concert. Tickets are $12.50 in advance, $15 at the gate. Children under the age of 12 will be admitted free. In case of rain the concert will be presented indoors at the Leggett & Platt Athletic Center.