Kynli Wolf gets to kiss the pig
December 15, 2008
The 2008 Kiss-A-Pig Event held November 8, 2008, at Twin Hills Country Club in Joplin raised over $30,000 for local programs and research for the American Diabetes Association, according to information supplied by Jennifer Cotner-Jones. Some of the funds will be used to help find a cure for type 1 and 2 diabetes.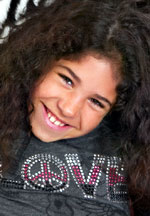 Kynli Wolf of Liberal, 7, pictured, got to kiss the pig by being part of a family that raised over $10,000 for the event. The young girl has type 1 diabetes. The family organized a golf tournament supported by sponsors from Lamar and Liberal. In addition, Wolf's school participated in the Walk for Diabetes program bringing in more donations.
Other major participants included Faron Hembree of Advantage Healthcare in Neosho and Michael Dodson of the Rib Crib in Joplin.