Keystone Lounge books Hans Condor for 2-nite gig
January 07, 2009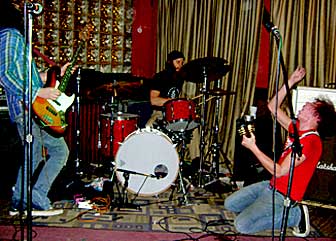 Hans Condor, a "pre-futuristic" good times rock 'n roll band from Tennessee, is going to blow the circuit breakers at The Keystone Lounge when they visit January 23 and 24, 2009, the fifth stop on their 2009 tour that began in California. The trio will be playing with the Spites on Friday and with the Witz on Saturday. Curtain time is 9 p.m.; the cover is five bucks per person, 21 or older.
Having a passion for all things '70s, Charles Kaster (guitar/vocals), Erik Haklombes (bass/vocals) and Eric Elsner (drums) are described as being able to lay the groundwork for "ripping solos, roaring blues riffs and some funky noodling in between." When they get rockin' they have been known to change history.
The group is traveling with a seven-track E.P., but by mid-January Classic Bar Music based in San Francisco will have released a 10-inch vinyl record that they recorded.
For a sampling of their music go here.
The Keystone Lounge is located at 528 S. Main St. in Joplin.