Cynthia Padilla brings her expertise to Joplin
March 04, 2009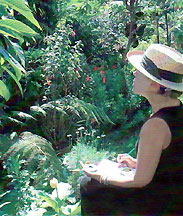 Botanical artist Cynthia Padilla creates comments about the harshness of the noon day sun while viewing lush tropical gardens on a coffee farm in the cental highlands of Antigua, Guatemala. In her left hand is a small watercolor wheel.
Noted international botanical artist and naturalist illustrator Cynthia Padilla, who has conducted field sketching programs at Harvard University's Arnold Arboretum, will be bringing her expertise to Joplin.
Padilla will conduct an all-media painting and drawing class from 10 a.m. to 4 p.m. on May 14-15, 2009 at the Spiva Center for the Arts, Third and Wall, Joplin. Her focus will be on using the technique of acrylic over colored pencil but all mediums will be encouraged. The subject matter will consist of everyone's contributions of nests, butterflies, shells, study skins, skulls and more.
A certificate of 12 contact hours will be awarded. A non-juried exhibition curated by the instructor may be scheduled. The course is designed for participants 16-years old and up. The artist's fee is $175 plus materials; a supply list is provided on registration.
To register please phone Spiva at (417) 623-0183. Ask for Tracie Skaggs.
Field sketching at Wildcat Park
No previous art training is necessary for participants of an outdoor class instructed by Padilla to make drawings from direct observation of the unique Ozark landscape that is along the trails of Wildcat Park in Joplin. Accompanied by a knowledgeable guide, the group will emerge with a sketchbook journal of "careful studies, quick scribbles, convincing renderings, and notes and notations".
The non-cancelable class for adults 16 and older will take place from 11 a.m. to 4 p.m. on May 16 and 17, 2009 and costs $180. A class for youth is scheduled for 9-11 a.m. on May 16 at a cost of $20 per person. Each adult participant will receive a certificate of attendance for 10 contact hours.
A supply list will be offered at registration. Please phone the Wildcat Glades Conservation & Audubon Center at (417) 782-6287 to register or for more information.
Padilla's sketchbooks on display
A sketchbook exhibition of Padilla's work entitled "Feather, Flower, Insect, Egg" will be on view for the public from April 1 to May 16, 2009 at the Wildcat Glades Conservation & Audubon Center, Wildcat Park, Joplin (I-44, exit 6, then south on Hearne's Blvd.). The exhibit is free and open to the public. Center hours from April 1 will be 9 a.m. to 5 p.m. Tuesdays-Saturdays and 11 a.m.-4 p.m. on Sundays. (Winter hours do not include Sundays.)