Bicknell organizes junket to Middle East
April 14, 2009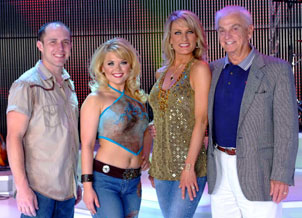 Branson entertainers Stephen Feemster, Bristol Sosa, Kim Barber and Gene Bicknell, owner of The Mansion, are members of a group on a humanitarian junket to the Middle East.
Pittsburg, KS philantropist Gene Bicknell is helping to entertain US servicemen serving in the Middle East. Bicknell, owner of The Mansion and other business properties in Branson, together with an ensemble of entertainers including Tony Orlando and his band, joined organizations in a humanitarian effort to the Middle East on April 8, 2009.
Bicknell's "party of 20" includes members of the Country Tonight showcase theatre. Recording artists Matt Snook and Phil Vandel from Kansas City joined the group. They will split up on their two-week mission to reach more military audiences, including those at sea serving on aircraft carriers and other navy vessels. Also included in the mission are sports celebrities, former Miss Americas and Mary Eisenhower of People to People International, the organization founded by her grandfather, President Dwight D. Eisenhower to enhance international understanding and cross-cultural friendships.
In addition to entertaining the troops, the cast will be delivering school supplies to US service personnel for distribution to the children of Iraq. The Bicknell Family Foundation has donated about 3,000 tee-shirts and more than 5,000 pairs of Croc shoes in a mission coordinated by Operation Iraqi Children, a non-profit effort founded in 2004 by actor Gary Sinise and author Laura Hillenbrand.
American Airlines through its Veterans Initiative Program led by Captain Steve Blankenship and Captain Jim Palmersheim loaned a Boeing 767 aircraft to facilitate what has been considered "the largest shipment of Operation Iraqi Children supplies in the history of the program.
"People aren't generally aware of how much charitiable work American Airlines does," Bicknell said. "What they've done for our veterans and their families is a model of corporate caring." He cited the involvement of the airline in the Wounded Warrier Project and Operation Snowball Express, that provides a yearly trip for the spouses and children of service members killed while on active duty since September 11, 2001.
This is not the first time Bicknell has offered his own resources for the sake of veterans and other service personnel. Transoceanic satellite hookups have enabled Branson entertainers to perform for them directly from The Mansion and other venues. In addition two-way communications permitted family members invited to Bicknell theatres to connect with their relatives serving in the Middle East.