Grocery stores don't sell new potatoes
May 30, 2009
What's really new at the Webb City Farmers Market? Potatoes--new potatoes, that is.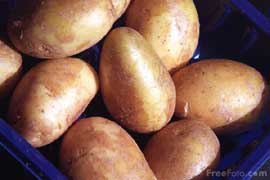 Known for their high moisture content and tenderness, new potatoes are too fragile for commercial production, according to market director Eileen Nichols. Therefore, Nichols says, that the "new potatoes" in grocery stores actually are mature potatoes that mimic new potato characteristics like its small size. A real new potato has skin so thin that it easily tears off when handled, Nichols adds.
---
Trivia quiz: What happened on June 15, 1992 that still goes down in infamy? That's the day that a Trenton, NJ sixth grader had to teach the Vice President of the US, Dan Quayle how to spell "potato" and not with an "e" on the end.
---
The new potatoes sold at the Webb City Farmers Market have been out of the ground for less than a day. In order to take advantage of the potato's many taste benefits, it should be refrigerated and used within a few days of harvest.
The Webb City Farmers Market is a producer only market open from 11 a.m. to 3 p.m. on Tuesdays and Fridays. The market is located off of Route 171 in King Jack Park. For more information, phone (417) 483-8139.