Ozarks Food Harvest grows with demand
June 22, 2009
SPRINGFIELD – Ozarks Food Harvest, The Food Bank has announced that it is relocating into its new food distribution facility at 2810 N. Cedarbrook beginning this week and will be formally operating in the new location at the Rankin-O'Reilly Development just north of East Kearney by June 30, 2009.
The construction, a milestone for Ozarks Food Harvest, is the result of a four-year Compassion in Action capital campaign. At maximum capacity in its current facility, The Food Bank had been forced to turn away food donations due to lack of adequate space.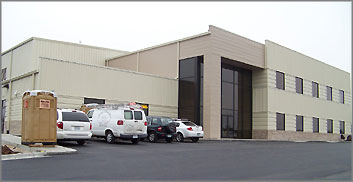 This shot of the front of the Ozarks Food Harvest was taken last April. For other construction photos showing the progress of the facility go here.
The facility, at 46,000 square feet, will allow for greater storage and distribution capabilities. Additionally, the building is equipped with "green," technology; including cooler & freezer sensors that use 30% less energy than conventional units and features Energy Star-rated lighting and appliances.
The integral move comes at a critical point for Ozarks Food Harvest, now serving more than 53,000 single individuals each month. It is projected this may rise to nearly 65,000 individuals a month by year's end.
The Food Bank is additionally reporting a record distribution total of more than seven million pounds of food this fiscal year, topping last year's record of more than five million. It is estimated that the new building will allow The Food Bank to distribute nearly 10 million pounds of food in its initial year.
Ozarks Food Harvest works with more than 350 hunger relief organizations in 29 southwest Missouri counties. A network of charities and direct relief programs such as Kids Cafe®, the Weekend Backpack Program™, Club F.U.N.™ and the Mobile Food Pantry™ offer assistance.
The agency encourages the submission of essays that describe one's most memorable experience in either helping another person or having been helped. The top essays will be posted on their website and recognized with an award from the executive director. For a form in which to submit the essay go here.
For more information about the new Ozarks Food Harvest facility, how to make a contribution, or to arrange special tours, please contact Kelly Richard by phoning (417) 865-3411 or by sending an e-mail here.