Here's a trio of books to read to youngsters
July 02, 2009
Research is showing that children who have been read to at an early age are better prepared to succeed in school. Reading aloud to children helps stimulate brain development as well as to provide an opportunity to strengthen family ties. We introduce you to three books that may be read to very young children or that may be texts for developing young readers.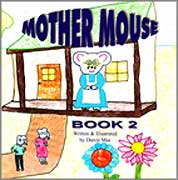 Author: Darcie MaeMirror Publishing (Milwaukee, Feb. 2009)
40 pages, $8.95 at amazon.com
Darcie Mae Fortin, whose pen name is "Darcie Mae" is a children's book author from Solon, Maine who often may be seen in a first or second grade classroom sharing her stories. Her second book in verse stars Mother Mouse who teaches mice children about opposites and then about modes of transportation, the latter done in a jaunty repetitive style. That Mother Mouse expects the full attention of her audience is seen in the author's description of her: "Mother Mouse teaches things with the stories she tells. She always speaks softly. She never has to yell."
What also may get the attention of Darcie Mae's young listeners are the illustrations she provides. The pictures and the words that accompany them are very colorful. Children may identify with them as if they had come from crayons in their own hands.
All the mice children return home after being rewarded with cookies. The children who have heard Mother Mouse's story are rewarded by having had their creativity stimulated.
---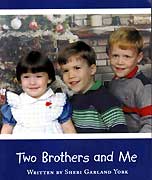 Author: Sheri Garland YorkIllustrator: Susan Anderson
AuthorHouse (March 2009)
32 pages, $15.75 at amazon.com
Over half of first-time author Sheri Garland York's life has been spent teaching children in kindergarten through second grade. As a teacher in Rabun County, Georgia for 30 years before her retirement in 2008, she said that her biggest reward was watching a child's eyes "sparkle" as he or she begins to read.
She also witnessed the maturity of her own children--Hannah, Dallas and Isaac. The bond of love among the two boys and a girl, she says, inspired her to write a story that will instill in young readers family values that will guide them throughout their lives.
We see Hannah growing up without the usual bickering among siblings but with the protection of older brothers. Even in pink, she becomes one of the boys, sharing in what boys like to do, including the pleasures of a secret tree house.
The simple story line is moved along by the splendid artwork of Susan Anderson. Her illustrations in themselves capture the contentedness and love that the children share.
---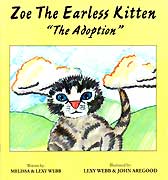 Authors: Melissa and Lexy Webb
Illustrators: Lexy Webb & John Aregood
Trafford Publishing (July 2008)
28 pages, $14.95 at amazon.com
Sub-titled "The Adoption" Zoe The Earless Kitten is the biographical tale of an abused, mixed breed kitten. Rescued from a "big, dirty dumpster" by a passerby, Zoe is brought to an animal rescue (based upon the dedication to one in Kingsville, AR) where she is nursed to better health...except (and no surprise here based upon the title) she is earless.
Authored by mother Melissa and then 9-year-old daughter Lexy from Kingsville, TX, the story is an attempt by the Webbs, Zoe's adoptive parents, to shed light on animal cruelty.
"It is important to teach children early on about right and wrong and all that it encompasses, including how to treat both animals and each other," explains Melissa Webb.
There is a hint of more of the adventures of Zoe to come when Zoe is introduced to the rest of the family, including two other cats and three dogs. One hopes that Zoe's life doesn't become too chaotic.
A person might find it difficult not to be charmed by a fuzzy kitten. One without ears becomes that much more difficult to resist, especially after looking at the illustrations provided by Lexy and John Aregood, a friend of the family who loves to spend his time designing residential landscapes and illustrating books.