Williams to become a family of lawyers
July 07, 2009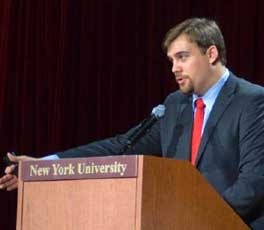 Hampton Williams of Carthage, pictured right, the son of Thomas L. and the Honorable M. Keithley Williams will be following in his parents' footsteps. In August he will attend the University of Missouri at Kansas City School of Law, his mother's alma mater.
A recent graduate of New York University with a Bachelor of Science in media, culture and communications, Hampton Williams began studies as a jazz performance major. He got his start playing drums with the Carthage High School jazz band and as a percussionist for the school's show choirs and drama department. While in New York he played with Grammy Award winning artists like Brian Lynch, George Garzone, and Ron McClure.
He increasingly became involved in politics--he was treasurer and president of the College Republicans. He interned at the White House, for the Republican National Committee and with the office of Congressman Roy Blunt who was Republican whip at the time. In his final year at NYU he was active in the McCain for President campaign, organizing volunteers for benefits attended by McCain and serving as a driver for the family of vice-presidential nominee Sarah Palin. Post election he worked for CNN's Lou Dobbs Tonight. This summer as well as working for a non-profit organization that trains shelter dogs to become search and rescue dogs, he will be working for the reeelection campaign of New York City's mayor, Michael Bloomberg.
His graduation ceremonies at NYU were hosted by the Steinhardt School of Education and held at Radio City Music Hall featuring jazz legend Wayne Shorter. He also participated with about 15,000 other graduates in a ceremony at Yankee Stadium. The bachelorette speaker and honorary degree recipient was Secretary of State Hillary Clinton.
"I will never forget the lessons that NYU taught me about self-reliance and leadership, but most importantly that you must take ownership over the issues that you care about." Hampton Williams said. "I'm very excited to follow in the footsteps of my parents and brother in pursuit of a law degree. Without their love and support I would have never been able to achieve what I have, much less imagine it."
Hampton Williams' mother is a former Jasper County associate circuit court judge. His father is a member of the law firm of Fleischaker & Williams, LC in Joplin.