Catch and eat your fish in historic Calico Rock
August 21, 2009
Legends abound. One says that when an early explorer of Arkansas' White River Valley came upon a beautiful limestone bluff, he named it "the Calico Rocks" because it reminded him of the fabric at the time used to make women's dresses.
As early as the first half of the 1800s the town of Calico Rock was an important port on the Upper White River. Its historic downtown is a popular tourist attraction and its river offers canoeing, rafting, tubing and trout in abundance.
Bring your fishing catch to Don Quixote's at 103 Main St. For $9.00 Chef Gushoe, will prepare it to your liking. For those without a reel Don Quixote's dinner menu served Friday and Saturday evenings includes Calico trout, boneless Idaho trout and seared halibut, not to mention ribs, two veal dishes and pasta for the non-fish eater.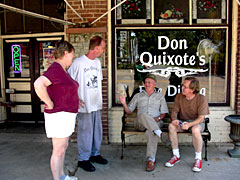 Owners Gloria and Tom Gushoe, Gene Lockie and Bob Pest convene outside of their restaurant, Don Quixote's in Calico Rock, AR.
The restaurant captures some of the unfettered whimsy associated with the Spanish knight whose name it bears; one of its owners Gloria Gushoe as well as its eclectic decorations welcome you. She is ready to answer any questions about the restaurant or the area.
Regular hours are Tuesday through Thursday and Sunday from 11:00 a.m. to 3:00 p.m.; Friday and Saturday from 11 a.m. to 9 p.m.; closed Monday.
Not far from Calico is the South Shore-Bull Shoals area. Bull Shoals Lake was created in the early 1950s when a dam was built to help control the White River basin flooding and to generate electricity. In 2006 a $5 million visitor's center was established overlooking the dam, lake and river in Bull Shoals-White River State Park, a place that attracts families, including campers and fishermen.
Calico Rock is about 120 miles from Fayetteville or just south of the Missouri State line and Bull Shoals Lake. Overnight accommodations may be found here.