Name your reading pleasure: dark side or not
September 02, 2009
Vampires, whether in historical fiction or in modern novels requiring blood-curling realism, always are a source of fascination, especially for youngsters. But is there becoming too much obsession with the undead?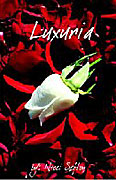 Author: Nicci Sefton
Publisher: Total Publishing and Media (Tulsa/March 2009)
248 pp., $12.23 at amazon.com
"Well, what's it like being human?" Annabell Crystal, the 200-year old vampire asked her love interest, Derrick Clark, in Nicci Sefton's novice novel, Luxuria.
Clark's one word clipped response was "boring." Like that of the female protagonist in the popular Stephenie Meyer series, the life of Clark, the son of two nondescript older guardians and a newcomer to the high school, is bereft of the normalcy that comes from a stable family relationship. Both are attracted to the fascinating but dangerous association with vampires.
"I will say that being a vampire is the furthest thing from boring." Crystal responds. "Time doesn't seem to matter to us because all we have is time."
She continues with a diatribe about the world in which both of them live, describing it as "falling apart and no one cares." She characterizes the youth, of whom her listener after all is a part, as "not caring about the things around them."
The author, a recent graduate of Tulsa's Union High School who herself admittedly uses writing as an escape from what might hurt her, does pursue an attempt to combat evil in a very graphic scene in which Crystal has to confront a ruthless "blood sucker" from her past named Jules Duncan. Her success in eliminating him gives her power and status in the underworld.
There may be some sort of an analogy between hanging with vampires and either thumbing one's nose at the in-crowd in high school or attracting their approval by being with beautiful people, those vamps with beautiful ivory-colored, frigidly cold skin. What seems a bit troubling is how vampires may officially be registered in school and even leave classes at will should the sun shine. They also own classy cars and drive at break neck speed without law enforcement intervention, a breach of reality that both Meyer and Sefton overlook without compunction. But then again this distortion of reality might be quite acceptable to both books' pre-teen and teenage audiences.
Sefton already has written the second in what she calls "The Deadly Sins Series." Invidia is slated for publication soon.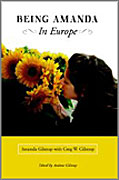 Author: Amanda Gilstrap with Greg W. Gilstrap, edited by Andrew Gilstrap
Publisher: Booksurge Publishing (booksurge.com/June 2008)
112 pp.,$12.99 at amazon.com
About as extreme as one may get in personality from Derrick Clark is a real life 19-year-old named Amanda Gilstrap. Being Amanda in Europe is a feel good book about family relationships. It stars Amanda Gilstrip who departs the US for a four-month study abroad program run by Franciscan University (of Stuebenville, Ohio) whose goal is to introduce students to European culture and expand their world views. Amanda is immersing herself in various cultures, confronting reality unlike Clark who has done little to develop himself into a well-rounded human being.
Sharing the authorship of Being Amanda is Greg Gilstrap, Amanda's father. In it they communicate with each other through e-mail. The book is a journal of sorts between the two revealing a bond between daughter and father that is heart-warming. While Greg keeps his daughter abreast of news from home and his concern for her safety, Amanda shares her adventures or misadventures in side trips across Europe.
Correspondence to Amanda from her Dad includes a number of fatherly "What do you means?" including "What do you mean today is the first day you missed the family?" or "What the heck are you doing hitchhiking?"
When his daughter is in Ireland, Greg sends her Irish blessings, putting him in a sentimental mood in which he reminisces to her about her antics when she was younger.
The father takes a trip with his wife to Rome, Italy. In one e-mail to Amanda he shares the highlight of their visit--their own private Mass at the Vatican in a small chapel at St. Peter's Basilica. Their itinerary also takes them to the Sistine Chapel, the Coliseum, the Spanish Steps and the Pantheon. He shares these history-filled experiences in words and pictures with his daughter who will enjoy a subsequent trip there and readers who are living vicariously through his descriptions.