Carl Junction teen is honored at Eagle Scout Court
November 13, 2009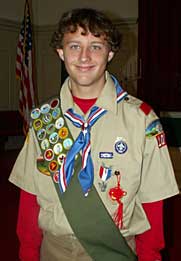 Adam Roy, 18, pictured left, a member of Boy Scout Troop 10 of Joplin, was cited recently at an Eagle Scout Court of Honor held at the First Presbyterian Church of Joplin. Only two percent of the members attain this highest Scout rank.
An Eagle Scout must have completed at least 21 merit badges and organized a service project that benefits his church, community or school. For his service project Roy lead a crew that disassembled an unsafe rock-climbing tower at The Bridge that had been damaged due to flooding in the building.
Roy joined Cub Scout Pack 70 in Carl Junction at age 7 and earned the highest award, the Arrow of Light. A member of Troop 10 since 2003, Roy was very active in summer camp and participated in several bicycle rides, backpacking hikes and kayak and canoe trips.
As a senior at Carl Junction High School, Roy has been involved in cross country, track and the A+ tutoring program. He plans to enter the EMT program at Crowder College after completing high school.
Roy is the son of Lance Roy and Laura Roy and grandson of Dan and Linda Yakes and Jean Roy.