Milar trains for Memory Walk; Memory Day nears
February 03, 2010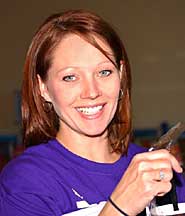 Christina Milar, pictured at left, area community outreach coordinator for Americare and this year's chairperson for the Joplin Area Alzheimer's Association's Memory Walk scheduled for fall 2010, has been invited to attend the National Memory Walk Conference at Disney Land in Anaheim, CA this month.
Milar who chaired the walk in 2009 will join other event chairs and Alzheimer's Association staff from around the country to learn about how best to organize, publicize, and execute their local walks. Education sessions include training on recruiting volunteers and participants and how to work with local media to secure proper news coverage. In addition, participants also will hear updates on Alzheimer's research funded by the national association and other work being done nationally and globally to support patients and families.
"As Americare's outreach coordinator for Foxberry Terrace, Silver Creek and the Arbors at Silver Creek, Christina has become a valuable resource to many in the community," said Tricia Mosbacher, Americare regional operations director. "Part of Americare's philosophy is to give back to the communities in which we operate. Christina is a great example of doing just that. She not only works hard to reach out to elders and their families in the community – she also volunteers her time to support causes that affect their lives. Her work with the local Alzheimer's Association is important to her and to our company."
According to local Alzheimer's Association Chapter Interim Development Director Nicole Brown, the purpose of the annual Memory Walk is to raise funds for support, education, advocacy and research for southwest Missouri. Last year's walk raised more than $13,500 and involved over 80 participants.
Jeff City advocacy: Memory Day
Anyone interested is invited to join chapter staff and others on February 17, 2010, as they head to Jefferson City to advocate for the more than 110,000 people in Missouri affected by the devastating disease of dementia.
A charter coach will be provided without charge thanks to a grant from the Missouri Foundation for Health. It will be leaving at 6:30 a.m. from the Northpark Mall in Joplin and at 8:15 a.m. from the Springfield office at 1500 S. Glenstone (Glen Isle Center). A continental breakfast will be served on the coach and lunch will be served at the Capitol. Group assignments and a discussion of the issues to be presented to Missouri legislators will be provided during the ride.
For more information about participating in Memory Day call (417) 886-2199 or (800) 272-3900 or send an e-mail to Angel King, program director here.
For more about Alzheimer's and the Southwest Missouri Alzheimer's Association chapter go here.