An off-season visit to Barcelona, Spain
March 10, 2010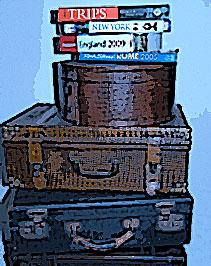 ...here we go a-wandering...traveling is the delight of the soul...
Barcelona's garden maze
by Chris Ciolli
Early spring in Barcelona somehow always brings me back to my Missouri roots. While winter in the Mediterranean is mild and snowless outdoors but frigid in my unheated apartment, spring tends to waver between the warm and balmy and crisp cool wind and rain. Home is where the heart is, and swift, surprising changes in the weather will always make me think of Missouri.
Spring and fall are the best times to be outside in Barcelona. From late March through October, tourism is fierce. In the city center, it's nearly impossible to push your way through the massive throngs of people to get to famous city parks like, Montjuic, La Cuitadella or Gaudi's Parc Guell. So I tend to avoid them during warm weather when the tourists are out.
Instead, I spend my time and energy wandering around the Parc del Laberint d'Horta, or the Garden Labyrinth Park. El Laberint d'Horta is the oldest conserved garden in Barcelona city proper and is located a good distance from the city center, on top of a sizable hill in Horta-Guinardó, a neighborhood that is seemingly all uphill. Formerly the family residence of the family of Catalan marquises, the Desvalls, the palace, and its gardens were donated to the city of Barcelona in 1967.
After sweating up the hill, I stride past a refreshment stand and picnic tables full of families with small children to the ticket booth. In front of the palace, a beautiful woman in a long white dress flashes an even whiter smile at her new husband as the photographer clicks and flashes. Her mother? She is off to one side, smiling and weeping in a pale lavender gown. Sunday entrance is free, so the guard, grey-haired and uninterested flaps a hand to wave me through while with the other he takes a drag on his cigarette.
Sunlight filtering through tall trees dances across the shaded dirt path. I take one of many narrow staircases down to the park's romantic garden. Framed by Mediterranean forest on three sides, and a dirt and stone retaining wall on the other, the large semi-rectangular gardens are further divided into smaller flower beds. Squares of lush greenery are shaded by slim tree trunks that zig-zag towards the sun. Delicate rays and bright streams of light pass through interwoven branches. Children skip around the flower beds, shrieking with laughter as they jump out from behind benches, shrubs and trees.
Thunk. A direct blow to the head with a pinecone keeps me from feeling too poetic about all the child-life running around. Rubbing my now tender temple, I stretch my neck muscles and crinkle my eyes to spot a little boy, giggling behind a park bench.
"On estŕ la teva mare?" Where is your mother? I ask him in my sternest "adult" voice and he skitters off towards a distant group of women strolling and conversing their way through the park. He quickly joins the cloud of children trailing the woman, directing a final glance over his shoulder to make sure I'm not coming over to tattle on him.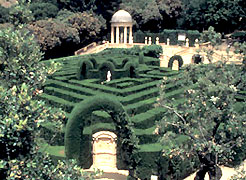 Parc del Laberint d'Horta is in the distict Horta-Guinardó of Barcelona, Spain. (Photo compliments of the Barcelona City Council)
A maze of cypresses is the entryway to the neoclassical garden. A marble relief of Ariadne and Theseus brings visions of men with bull's heads, heroes and the women that made their heroism possible. Ariadne gave up everything to help Theseus master the Labyrinth and kill her monstrous half-brother, the Minotaur. But Theseus found no joy in her and left her sleeping on an island first chance he got. So much for gratitude.
But all was not lost, as Ariadne later married Dionysus, the god of wine. Dionysus was said to be a cure to care and worry, and with any luck for Ariadne, to hearts broken by unfeeling Greek champions as well. Of course, the god in located on a pedestal in the center of the labyrinth is Eros to the Greek, or Cupid, to the Romans and the rest of us.
After finding love in the center of the labyrinth, I climb up the terrace directly overlooking the complicated shrubbery I just stumbled through. Here the goddess Artemis and mother of Perseus, Danae, lounge in their respective temples, domed gazebos with Roman columns. I pass Ariadne's husband Dionysus on the way up the upper level, cross a small canal dubbed the "channel of love" on the way to inspiration.
Inspiration takes the form of a small neoclassical pavilion dedicated to the nine muses, but I'm more interested in the reflecting pool and the small grotto behind it. In the rich shade of the pavilion, I watch tiny orange fish wiggle through its reflection. Peering into the water, it seems as if they are flying around a shades of rippled green sky. Green sky brings me full-circle back to my Midwestern roots and the sky before the storm hits. Instinctively I look up, but there's not a cloud in site. In Barcelona I've rarely seen a thunderstorm, and never heard mention of a Tornado. It's only when you have an excess of clear skies that you miss the thunder and lightning.

Chris Ciolli above all things is a traveler, but traveling aside, the kitchen and the written word are two of her greatest distractions. She also says she manages to make a living teaching, translating, editing and writing with work published in the Tipton Times newspaper of Tipton, MO and LaVanguardia.es, the online edition of the LaVanguardia newspaper. Currently living in Barcelona, Spain, Ciolli is a Jefferson City, MO native and UMC graduate with strong ties to the mid-Missouri experience. She welcomes questions about recipes or experiences and propositions for professional collaborations. Contact her here.
Copyright Chris Ciolli 2010. No part of the writing may be reproduced without permission.