Book about rural schools has been updated
April 17, 2010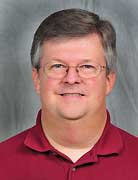 The book, A History of the Rural Schools in Greene County, Mo., has been updated by the author, David Burton, pictured at right, to celebrate the 10th anniversary of the book's original release in 2000. Burton is a civic communication specialist with University of Missouri Extension.
The book's release accompanies a new array of online resources and YouTube videos created as part of the Rural Schools Project located at the Greene County Extension Center. Videos of the Locust Prairie School on Farm Road #56, the Willey School Tour and students from the past may be found here.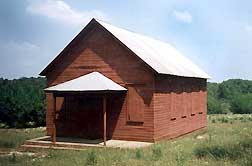 This one-room schoolhouse may be found in Flatrock in Greene County, Missouri.
"The revised book has over 70 additions, more photos, and answers to some of the most common questions that I've been asked over the past 10 years," Burton said. "In the past this book has created interest elsewhere in saving one-room schools, and I hope the trend continues."
Over 1,000 copies of this book have been sold since 2000. All proceeds from the sale of the book go to the Greene County Extension Council.
"The one-room school is the foundation of public education and a reflection of Missouri's spirit and character. This book captures that spirit, details the rise and fall of one-room schools in this county, and encourages this type of historical community development elsewhere," said Burton.
Copies of the book are available for $20 (plus $2 shipping and handling) from the University of Missouri Extension Center in Greene County, 833 Boonville, Springfield, MO 65802. Burton is available as a speaker for $25 per hour, plus travel expenses. To make a reservation send an e-mail here.
For more photos of the schools taken by Burton go here.