Local ARC gets new executive director
June 05, 2010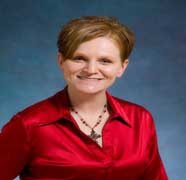 Kerstin Landwer of Joplin, pictured, is the new executive director of development of the Greater Ozarks Chapter of the American Red Cross, Joplin office.
With more than 12 years of service at the YMCA, Landwer says she is "looking forward to serving the area in a new capacity."
Landwer's hobbies and activities include working in her garden, hiking with her German shepherd Chance and participating in the Joplin art scene. Her husband, Doug Grooms, is property manager at the Freeman Southwest Family YMCA.