Miami, OK native joins ILC staff
June 09, 2010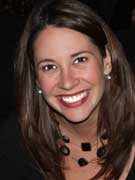 Lisa Walser, pictured, a native of Miami, OK, has become the new community relations coordinator for the Independent Living Center, a private, not-for-profit corporation devoted to meeting the needs of individuals with disabilities. She assumed responsibilities on May 17, 2010.
Walser, a graduate of Pittsburg State University, has a bachelor's degree in social work. Before re-locating to her home area, she served as the director of training and auditing for HCFS, Inc. in Addison, TX, serving hospitals in 14 states.
The ILC is located at 2639 E. 34th St., Joplin (directly behind the Hilton Garden Inn). For more information about the center contact Walser at (417) 659-8086.