Find your pets at the shelter and save lives
June 24, 2010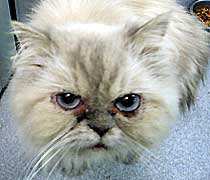 HELP ME! My name is Marabella and I, a Persian adult cat, and my pals I've met at the shelter, are in need of a safe place to live. Otherwise, we're SOL.
The Animal Adoption & Resource Center (AARC) is pulling out all the stops with a "Tail Sale" in an effort to find homes for the 200+ animals awaiting adoption at their facility. Adoption fees are being waived on all big dogs (40 pounds or more) that are older than four months and all adult cats. All animals will require a $35.00 spay neuter fee if needed.
AARC historically handles about 12,000 animals each year but since moving into their new facility in February, they have seen a tremendous increase in those numbers. Since June 1, 2010 more than 1000 animals have come through their doors.
According to shelter officials, if homes or rescues are not found for the animals, their outlook is grim. Although AARC works closely with rescue groups and shelters in other states, the sheer volume, they say, makes it is impossible to find them all good homes. As many as 100 puppies and kittens come into AARC in a one-day period.
"Killing animals as a method of population control is barbaric and unacceptable," said Karen Aquino, AARC's director. "We're here to save lives, not end them. We have declared war on euthanasia and will continue to go the extra mile in an effort to find homes for the animals in our care."
Shelter Manager Lysa Buehler added, "If you can't find a pet that makes your heart purr when you come in, we will be handing out rain checks to all those who stop by, redeemable through the month of September!"
Buehler reminds people to spay and neuter their pets. In addition, if anyone has lost a pet, he or she should be sure to contact AARC. They get lost pets from Southeast Kansas and Southwest Missouri as far away as Branson.
"If you've lost your cat or dog, it's probably here," Buehler pointed out.
AARC always is accepting donations for medical supplies, shots, and all the other expenses it takes to care for so many animals. For more information on what is needed or how to donate go here. For photos of some of the animals recently at the shelter go here or for a sampling of 70 pets needing good homes go here.
AARC, known as the Joplin Area Humane Society, is located off of North Main Street at 140 E. Emperor La. Hours are 1-6 p.m. on Mondays through Fridays and 10 a.m. to 3 p.m. on Saturdays. Closed on Sundays.