Stiles receives influential woman status
July 07, 2010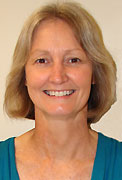 JOPLIN - Judy Stiles, pictured, general manager of KGCS-TV at Missouri Southern State University, is among the 15 most influential women of 2010, according to an announcement by the Joplin Tri-State Business Journal, sponsor of the award. The 15 women will be honored at a luncheon on August 26, 2010 at the Ramsey Building in downtown Joplin.
"This is a great accomplishment," said Dr. Bruce Speck, MSSU president.
"In her time at Missouri Southern, the campus television station has multiplied services, improved equipment and reached out to the community with diverse programming," he added. "Judy Stiles is an outstanding leader who richly deserves this award."
An independent panel of judges selected the 15 individuals, with more than 80 women from the tri-state area nominated this year.
Stiles who came to Southern in 1986 has served as general manager of KGCS-TV since 1993 and was its community service director. She is a part-time instructor at MSSU in the department of communications and is involved with the First-Year Experience Program. Prior to coming to MSSU, she worked as a television news producer in Tulsa.
As general manager, she oversees the daily operations of the regional broadcast television station that reaches 167,800 households. She also produces and hosts the weekly news program, "Newsmakers." In more than 24 years she has produced more than 1250 shows and interviewed more than 1300 people.
Stiles currently serves as the president of the Joplin NALA Read Board of Directors. She has served as a volunteer for the Girl Scouts, the Joplin Convention and Visitors Bureau, United Way of Southwest Missouri, Main Street Joplin, the Retired Senior Volunteer Program and with her church.
In addition to Stiles this year's honorees, in alphabetical order, are: Phyllis Abbott, director and curator of the Baxter Museum in Baxter Springs, KS; Loretta Bailey, agent with All-State Insurance in Joplin; Becky Baltz, Missouri Department of Transportation; Angie Besendorfer, Joplin Schools; DeAnne Binns, Bill Abernathy Memorial Lifetime Learning Center; Jen Black, House of Hope Joplin Inc.; Wendi Douglas, Carthage Convention and Visitor's Bureau; Anne Emerson, U.S. Sen. Sam Brownbeck's office; Leslie Jones, city of Joplin; Robin McAlester, Wildcat Glades Conservation & Audubon Center; Jo Mueller, George A. Spiva Center for the Arts; Virginia Rider, Pittsburg (Kan.) State University; Julia Skidmore, Advance Dental Care in Joplin; and Kirstie Smith, Joplin Area Chamber of Commerce.
Rob O'Brian, president of the Joplin Area Chamber of Commerce will be the keynote speaker for the event. Logan Stanley, a financial adviser with Edward Jones will be master of ceremonies.
Tickets are $28 each with tables of 10, $250. Contact the publication for reservations.
Stephen Smith, manager of the MSSU News Bureau, contributed greatly to this article.