Baxter Springs author compiles book on cemetery
July 19, 2010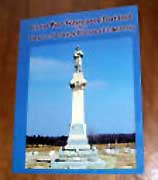 Civil War Veterans Buried in the Baxter Springs, Kansas Cemetery, by historian and genealogist Earleene Spaulding is a book that has just been released.
From what started out as a collection of historical Civil War materials used to assist others in research, the soft cover book in large format contains 122 pages of photos, obituaries, cemetery records, a cemetery plot map, Heritage Center records and a complete index. Included in the commentary is the burial and reburial of Civil War soldiers slaughtered in the Baxter Springs Massacre that brought about the designation of a National Plot, not common to many cemeteries.
---
A journey begins with a single step. The more we know about our history, the more we know about our future--Earleene Spaulding
---
The book, available in limited edition, may be ordered at the special price of $20, through the Gregath Company by phoning (918) 542-4148 or (800) 955-5232. Mention "AD781." The book also is available at the Baxter Springs Heritage Center & Museum, 740 East Ave., Baxter Springs, KS.