Free postings for Rte. 66 businesses are offered
July 20, 2010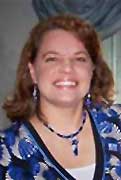 Historic businesses on Route 66 are encouraged to submit information to a directory being posted by John's Modern Cabins News. The site, offered free of charge by Carolyn Hasenfratz of Brentwood, MO, pictured, was expanded to promote and encourage preservation projects on all parts of the historic highway. To meet this goal, in addition to the directory, the website contains preservation news, suggested actions, opinions and promotional space.
Hasenfratz, an obvious fan of historic Route 66 and a member of the Route 66 Association of Missouri and Friends of the Mother Road, began the site in 2002. Its original purpose was to get the word out about John's Modern Cabins, an historic Route 66 site in Missouri that was endangered. The website was expanded after the immediate crisis with the John's property had passed. She offers this service free of charge because she believes that one of the best ways to preserve the heritage of Route 66 for the future is to keep historic businesses vital and open.
To access the form go here. If preferred the printable form may be downloaded and mailed in. The address is P.O. Box 170026, St. Louis, MO 63117.