Teed to join Jasper County race as Independent
August 02, 2010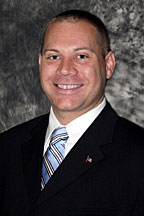 Carthage – Timothy "T.J." Teed (pictured), a councilman for the city of Carthage, officially will be announcing his candidacy for Jasper County Presiding Commissioner. The event will take place on the steps of the Jasper County Courthouse at 10 a.m. on August 5, 2010. He will be running as an Independent.
Teed gathered 575 signatures from Jasper County registered voters to have his name placed on the ballot for the November 2, 2010 general election.
A lifelong resident of Jasper County now living in Carthage, "T.J." is a 1999 graduate of Sarcoxie High School. Currently, he is working for a degree in history and political science at Drury University in Springfield.
As councilman for the city of Carthage, Teed has served on the following committees: budget and ways and means, finance and personnel, public safety, public services and public works. He also was city liaison to the Carthage Chamber of Commerce, Carthage Convention and Visitors Bureau and the Harry S. Truman Coordinating Council. He is an active member of Optimist International (Board of Director), Alliance of Southwest Missouri, Carthage Caring Communities and the Carthage Chamber of Commerce.
Teed's opponents, including incumbent John Bartosh, are David Troyer of Carthage, Jeff Hammons of Carl Junction and James Ivan Pendergraft of Carthage. They will be vying for the Republican nomination tomorrow during the August 3rd primary election.