Moxie Cinema goes non-profit
August 05, 2010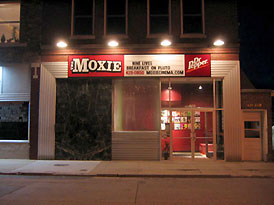 Springfield will retain its only independent movie theater - Moxie Cinema - through the creation of the non-profit Downtown Springfield Community Cinema Fund administered by a volunteer board through the Community Foundation of the Ozarks. No significant changes are planned. Dan and Nicole Chilton will serve as consultants through the end of August.
Four membership levels will be offered to movie lovers to help support the theater with all donations tax-deductible. They are individual membership ($100), family membership ($250), producer ($500) and director ($1,000). The benefits associated with membership include discounted tickets, invitations to special events and more. Checks should be made out to the "Downtown Springfield Cinema Fund" and sent to the Community Foundation of the Ozarks, 425 East Trafficway St., Springfield, MO 65806-1121. Donors may also make a donation online here. The "Downtown Springfield Community Cinema Fund" must be specified.
"Everyone who buys a ticket and a bag of popcorn is helping support the Moxie, but we believe that memberships will involve the community in a stronger way and will help ensure that the Moxie--and the great films itchampions--will be around for generations," comment MOXIE spokesperson, Mike Stevens.
Coming attractions
Starting Friday, Aug. 6, 2010 is director Jean-Pierre Jeunet's Micmacs featuring dazzling visuals, a tangled storyline and a crackerjack cast. Being held over are two movies, Cyrus, the quirky comedy starring Jonah Hill, John C. Reilly and Marisa Tomei and Joan Rivers: A Piece of Work, a documentary about the "queen of mean" that is a backstage look at show business and what it means to be a comedienne.
The Moxie is located at 431 South Jefferson, Suite 108 (on the corner of Pershing and Jefferson). To be put on a mailing list go here.