Local optometrist to serve on national committees
October 28, 2010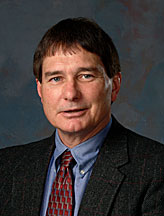 Dr. James Bureman, pictured, has been selected by the Association of Regulatory Boards of Optometry for the Optometric Competence Committee and the Judicial Rules/Resolution Committee, according to an announcement by the Missouri Eye Institute. A board-certified therapeutic optometrist practicing in Springfield, Branson and Joplin, Bureman also serves as the president of the Missouri State Board of Optometry.
The Association of Regulatory Boards of Optometry is the alliance of boards of optometry throughout North America. Boards of optometry serve as the licensing and regulatory arm of the optometric profession by formulating rules, or regulations, that govern and enforce the laws that grant the privilege to practice optometry. Bureman and fellow committee members work to ensure proper education and the highest possible standards for optometrists across the country.
Bureman, the administrative partner for the Missouri Eye Institute, has been recognized as "Optometrist of the Year" by the Missouri Optometric Association.