Local teacher is honored
November 15, 2010
Doug Logan, a social studies teacher at Carl Junction Junior High School, was one of five teachers honored this evening (November 15) as state finalists in the teacher of the year program conducted by the Missouri Department of Elementary and Secondary Education. The recognition banquet was held at the Capitol Plaza Hotel in Jefferson City.
Chosen as Missouri's Teacher of the Year for 2011 was Robert "Bob" Becker, a chemistry teacher at Kirkwood High School. He was selected in August to represent Missouri in the annual National Teacher of the Year program.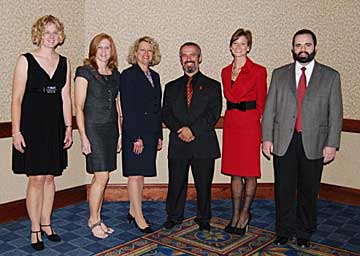 Missouri Teacher of the Year Robert Becker and five state finalists were honored by state education officials at a recognition banquet on Nov. 15. From left: Lori Mathys, Rebecca Gooding, Lori Merrigan, Robert Becker, Abby Lowe, Doug Logan.
The other state finalists honored include Rebecca Gooding, a fifth grade math teacher at Eagle Glen Intermediate School, Raymore-Peculiar School District; Abby Lowe, a kindergarten teacher at the David Harrison Elementary School in the Springfield School District, Lori Mathys, a fourth grade teacher at Chesterfield Elementary School in the Rockwood School District and Lori Merrigan, a fifth grade teacher at the Underwood Elementary School in the Lee's Summit School District.