Arvest Bank was robbed this morning
December 01, 2010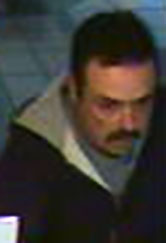 The Joplin Police Department has released this photo of the suspect in the robbery this morning [Dec. 1, 2010] of the Arvest Bank branch on 32nd Street.
The suspect is a Hispanic male, 5'5" to 5'6" tall, medium build, black hair, brown eyes with three bottom teeth missing on the left side of his mouth. He was wearing a blue windbreaker and blue jeans. He stated he had a gun but none was displayed. He fled east on foot from the bank.
Anyone with information regarding the identity of this man should phone the department at (417) 623-3131 or send an anonymous tip to Crime Stoppers at (417) 782-TIPZ (8479) or fill out the form here. Tipsters do not have to give their names and could earn a reward up to $1,000 for information leading to an arrest.