Schmidt Associates ensures its future
January 17, 2011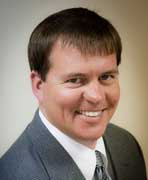 Demonstrating a plan to ensure clients have access to professional, financial and accounting services for many years to come, Stan Schmidt, president of Schmidt Associates PC of Carthage has announced that Brian Schmidt, pictured at left, has become a shareholder.
Brian Schmidt joined the firm in 1998 as an intern and in 1999 he was awarded a Bachelor of Science in business administration with an emphasis on accounting from Missouri Southern State University. After becoming a CPA in 2002, he left to join a small accounting firm in Independence before returning in 2006 to assume a greater role.
His community involvement includes having served as a board member for the Carthage Humane Society from 2007-10. Currently he is serving on the boards of the Carthage Public Library and the Carthage Water and Electric plant.
Schmidt Associates is located at Suite C, 2530 Grand Ave. Stan Schmidt opened the firm in 1990 to provide accounting, payroll, tax and CFO services to the small business community, as well as estate, tax and retirement planning for individuals.