Heartland Crime Stoppers goes digital
February 15, 2011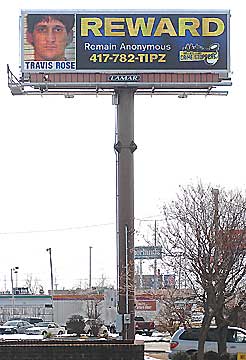 Heartland Crime Stoppers has decided to use billboards for displaying wanted persons, according to Paula Bone, a Joplin Police Department officer and organization spokesperson. She calls attention to the success achieved by other Crime Stopper communities who have used billboards for years and that Lamar Advertising Company of Baton Rouge, LA has been a long-time partner of Crime Stoppers nationally.
"Since we have Lamar Advertising in this area and they are willing to help us, we are taking advantage of their support," Bone said. "We know Range Line Road has a lot of traffic and if the public is made aware of these billboards, perhaps, they will pay special attention to them when driving."
Bone said that the 10 1/2' X 36' digital billboards will remain simple, with only a photo and a name. Not all of the six different people displayed will be seen every time but drivers have a better chance of seeing more than one when stopped at a light. An example would be the digital sign at 24th and Range Line Road in the parking lot of the former Bella Peppers restaurant that can be seen by drivers traveling south. Another digital sign is at 3331 North Range Line Road at Connie's in Webb City.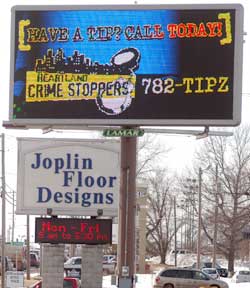 In addition to the digital billboards Crime Stoppers will continue to run billboards with their contact and donation information on them. One of them may be found facing west on 32nd Street just past Panera's. Others will be across from Walmart on the south side of 7th Street, 17th and the east side of Main and the south side of 7th between Petland and Dollar General.
Two of the men currently pictured on the digital signs include Kasey J. Simpson and Navis Simon. Simpson is wanted for possession of a controlled substance and Simon for non-support. In case it is not be evident from the signage, Simpson is a 29-year old while male, 6 ft. 1 in. tall, weighing 190 pounds, with brown hair and eyes. Simon is a 36-year old white male, 5' 11" tall, weighing 260 pounds with black hair and brown eyes.
Crime Stoppers advises anyone not to try to apprehend any wanted persons but if their whereabouts are known to contact (417) 7823-TIPZ (8479) or go online here. Tipsters remain unidentified even if earning a reward which could be as much as $1,000 for the filing of charges against any persons involved in felony crimes.
Photos by Vince Rosati