JHS Constitution team becomes reigning state champ
February 24, 2011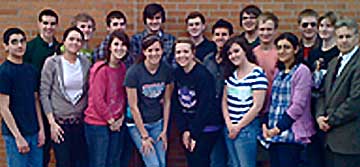 The Joplin Constitution Team under the direction of Joplin High School coach William Keczkemethy was honored by proclamation on February 23, 2011, by Mayor Mike Woolston. The ceremony that took place at the Joplin Museum Complex recognized its achievement as the reigning champion for the state of Missouri's "We the People" Constitution Team state competition and for representing the state at the national competition in Washington, D.C.
The team had researched and completed questions and issues related to the Constitution, government and politics and demonstrated the most knowledge and views on the contemporary relevance of the Constitution and Bill of Rights before a panel of judges. The Joplin team was able to oust Westminster Academy, a private school in St. Louis that held the state title for the past 10 years, an achievement Keczkemethy said was "a new opportunity to put Joplin on the map and demonstrate what our students are capable of."
The team includes: Urooge Boda Josh Brite, Rebecca Collins, Zach Cox, Nathan Fisher, Dakota Gilmore, Kasey Grant, Grant Hoerman, Corey Hounschell, Alayna Jones, Emma Meek, Vivian Moreno, William Norton, Augustus Oberg, Tyler Overstreet, Stewart Pence, David Purser, Ethan Putman, Griffin Sonaty, Sara Sticklen, and Ryan Wood.
Although the Missouri Bar Association has agreed to provide the cost of air fare for the team, a fund has been set up to help pay for the approximately $1,000 needed per student for accommodations, food, ground transportation, and other competition requirements while in D.C. Donations should be mailed or hand delivered to Cheryl Warstler, Joplin High School, Indiana Ave., Joplin, MO 64804. The deadline is March 3, 2011.