St. John's Medical Center reports casualties
May 26, 2011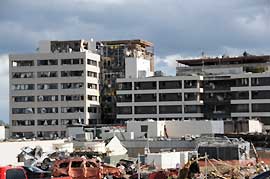 St. John's Medical Center at McClelland and 26th Street in Joplin, is shown after standing in the direct path of an E-5 tornado that ravaged Joplin neighborhoods on Sunday, May 22, 2011.
Mercy thanks the courageous doctors, nurses and other caregivers who evacuated 183 patients after a tornado struck St. Johnís Regional Medical Center in Joplin on May 22, 2011. While a number of Mercy caregivers themselves were injured, their selfless efforts put their patients first and resulted in a timely and orderly evacuation, according to a statement by Cora Scott, Mercy representative.
"In spite of these heroic efforts, Mercy is saddened to confirm that five patients lost their lives," Scott said. "In addition, an unidentified visitor was among those who perished. Authorities have been working to determine the identity of the visitor and to notify the family."
[It has been reported that the five patients had been on ventilators. Back-up generators had been destroyed. Hospital officials attempted to bag mask the victims but to no avail.]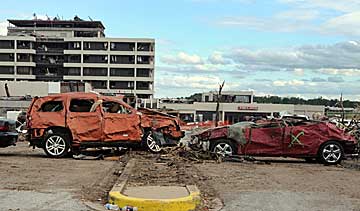 Cars wrecked during the tornado in Joplin are used to block the entrance to St. John's Medical Center while workers secured the building.
An Ozark, MO resident has reported that she found medical records from St. John's in her backyard, some 60 miles away. A process for collecting dispersed documents is being planned and anyone finding them should hold on to them, respecting the privacy of the patients.
It was reported that in addition to structural damage, especially to windows and the roof, the hospital building was moved four inches off of its foundation. While at first nobody from the city of Joplin was able to report that St. Johns would be rebuilt, Mercy finally issued a statement that they consider themselves a significant part of the Joplin community--since 1896--and will continue to have a commitment and presence.