City is given symbol of courage
May 28, 2011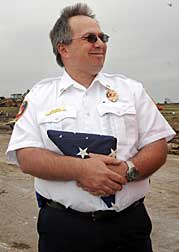 Joplin Fire Chief Mitch Randles, whose own home was destroyed by the tornado that hit Joplin on May 22, 2011, clutches a flag given to the city by Marine Cpl. Brian Henson of Georgia. The exchange was made at a brief ceremony yesterday in Cunningham Park.
Marine Corporal Brian Henson, wearing a small silver cross and a large tattoo on the underside of his left arm that reads "Patriotism," did not want any notoriety when he donated a flag to the city of Joplin that he said he had with him during two tours of duty in Iraq and another in Afghanistan. Henson, 31, said, that after losing his best friend, he had carried the flag around with him as a symbol. He said the flag stood "the test of time" and represents what we all go through that makes us strong inside.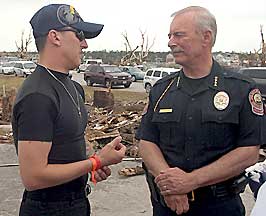 Joplin Police Chief Lane Roberts, standing to the right of Henson, thanked the former soldier for the donation. Roberts said that there was "something fitting about a flag that has survived [potential destruction in battle areas] flying over the city."
Transfer of the flag was a poignant moment during a regular press conference that took place on May 27 at Cunningham Park. Cynical as reporters might be, several couldn't escape feeling deeply emotional.

Joplin's tornado risk had been rated a "C-" by the website "Homefacts," not counting the latest tragedy. Specifics may be found here.
A recent report made by the Animal Adoption and Research Center and the Humane Society of Missouri shows that of 464 animals rescued, 121 were reunited with their owners.
All residents affected by the tornado again are urged to register with the Federal Emergency Management Agency (FEMA) using any of these methods:
Phone (800) 621-FEMA (3362).
Register online here.
Send a text to m.FEMA.gov.
FEMA representatives are available to visit with residents at the Disaster Recovery Center (DRC), 4th & Byers, open from 8 a.m. to 6 p.m. and on campus at Missouri Southern State University. Following Obama's visit the Multiple Resource Agency Center will be open at the Bridge next to the Holiday Inn/Hammons Convention Center.
The Joplin Municipal Court will be closed from May 30 through June 3. To find out a revised court date phone (417) 624-0820.
R-8 advisement



Joplin High School at 2104 Indiana received major damage. It was fortunate that graduation exercises begun at 3 p.m. were held at the Leggett & Platt Athletic Center on the campus of Missouri Southern State University. It is sad and ironic that Project Graduation that was scheduled for later that day at The Bridge had promised to be "a memory they [students] won't forget."
Superintendent of Schools C.J. Huff said reconstruction will begin at East Middle School, Cecil Floyd Elementary School and the R-8 Administration Building at 15th and Connecticut. That leaves others like Joplin High School, Franklin Tech and Irving Elementary on a wait list. Summer school is expected to be in session from June 13 until July 29 with elementary school students to attend summer sessions at West Central, Stapleton and McKinley schools. Middle school and high school summer classes will be held in the new South Middle School. The old South Middle School building sustained substantial damage.
Regarding the start of the fall semester on or about August 17, Huff said the district has "lots of options" available and is establishing "plan A and a plan B." Plan A necessitates that all the reconstruction be completed before the start of fall classes. As an alternative, Plan B would involve using other structures to house students, including possible Federal Emergency Management Agency mobile classrooms.
Handling debris
Debris should be separated into six categories:
Electronics: televisions, computers, stereo, phones, DVD players
Large appliances: refrigerators, washer/dryers, air conditioners, stoves, water heaters, dishwashers, microwaves (do not leave doors unsealed for safety reasons)
Hazardous waste: oil, batteries, pesticides, paint, cleaning supplies, compressed gas
Vegetative debris: tree branches, leaves, logs, plants
Construction debris: building materials, drywall, lumber, carpet, plumbing supplies, siding and roofing; furniture is in this category
Household garbage: Bagged garbage, discarded food, paper packaging and clothing
Place debris curbside but do not block roadway or driveways. If possible keep debris away from trees, poles or other structures like meters and fire hydrants to make removal less difficult. Debris should be of manageable size. So far, there is no deadline for removal of debris but that could change and residents are urged to comply as soon as possible.