Blaze on 4th Street is severe
June 14, 2011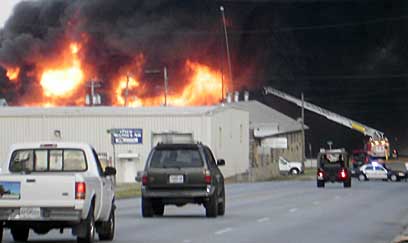 (Photo by Adele Thompson)
The Joplin Fire Department is currently working a large structure fire at 1002 E. 4th St., the former Griffin Grocery warehouse east of the old Mid-Western Machinery building. Motorists are advised to use alternate routes as Fourth Street will be closed most of the day from Fourth and Murphy Boulevard to Fourth and Michigan Avenue.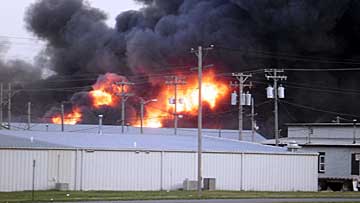 (Photo by Adele Thompson)
Due to the fire there are several power outages in the area affecting traffic signals; motorists are to treat intersections with inoperable traffic signal lights as four way stops. Please avoid the area to allow emergency personnel to perform their duties.
Several businesses are housed in this building including Litho Printing. Explosions have originated from the structure, according to an eye witness who was at the laundry across the street. Lesley Business Centers owned and operated 1002 E. 4th St. A reliable source has told the JOPLIN INDEPENDENT that much of the warehouse space had been coated with "an oily, greasy film," that flammables were stacked in the open, and that the "smell of solvents" was prominent, creating a recipe for an explosion and fire.