Fire on 4th Street remains under investigation
June 15, 2011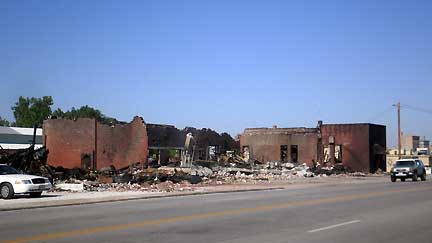 (Photo by Adele Thompson)
The aftermath of the structure fire at 1002 E. 4th St., east of the old Mid-Western Machinery building, is seen here.
Several businesses were housed in this building including Litho Printing, Grow Marketing, Relay for Business, Kodiak Transportation, Radio Communications Specialists, Furniture Rescue, All Lamp Recycling and Jim Morris Roofing.
Explosions originated from the structure, according to an eye witness who was at the laundry across the street. Lesley Business Centers owned and operated 1002 E. 4th St. that unfortunately also had become a temporary storage for goods salvaged from homes and businesses in the path of the tornado.
An investigation as to the cause of the fire is continuing.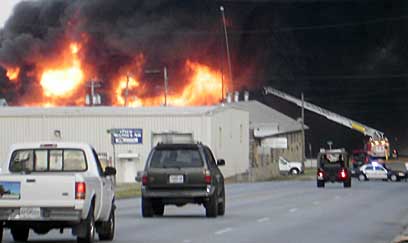 Huge flames shot into the sky after a fire engulfed a building at 1002 E. 4th St., Joplin, owned by the Lesley Business Centers. (Photo by Adele Thompson)