Terry Hicklin becomes president of RCI
July 21, 2011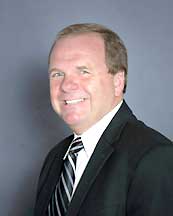 Terry Hicklin, pictured at right, co-founder of Candy House, has been name president of Retail Confectioners International. He will serve for one year and in the role of past president for up to three years.
"Terry is very flexible and adaptable in the business world," said Kelly Brinkmann, RCI executive director. "His passion for helping others in the industry is evident."
Hicklin gained experience serving in many leadership roles with RCI over the years. As president, in cooperation with Brinkmann and the executive committee, Hicklin will lead the organization in budgetary and strategic planning and in guiding other committees in fulfilling their functions.
"As president of the RCI, Terry Hicklin will again bring national attention to the Springfield and Joplin area as he fosters business relationships within and outside of his candy making industry," said spokesperson Priscilla McKinney.
Candy House with three locations--one in Springfield and two in Joplin--has received many sales and marketing awards since 2003. Among them are the Small Industry of the Year awarded by the Joplin Area and Springfield chambers of commerce.
Based in Springfield, the Retail Confectioners International is a not-for-profit trade association founded in 1917. Its membership is composed of prominent manufacturing retailers of quality boxed chocolate and other confectionery products from around the world.