St. John's Mercy announces new campus location
August 16, 2011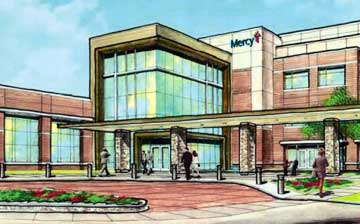 An artist's rendering shows the proposed entrance to St. John's Mercy Hospital
St. John's Mercy announced the location this evening (August 16, 2011) for the replacement of their campus that was destroyed by the May 22 tornado.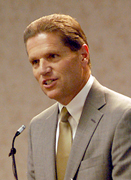 The announcement originally promised for as late as the end of the year came as Joplin's movers and shakers assembled in the Grand Ballroom of the Holiday Inn for a celebratory dinner.
"There was never a thought to close down and walk away," said Gary Pulsipher, president of St. John's Mercy, pictured at right. "In fact, Mercy immediately pledged to keep more than 2,000 St. John's Mercy co-workers employed....."
Pulsipher's remarks prefaced the announcement. He realized that everyone was anxious to know the details, although back fence gossip let the cat out of the bag, so to speak.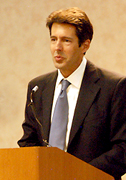 Mercy's preliminary plans, announced by Lynn Britton, president and CEO of Mercy, pictured at left, include the construction of a state-of-the art facility and campus on 100 acres between I-44 and 50th Street bordering Hearnes Boulevard as well as additional health care facilities elsewhere in Joplin. The original campus off of McClelland Boulevard will not be abandoned and eventually will be re-constructed to serve additional healthcare needs. Their commitment to Joplin, he said, will include upwards of $950 million.
Mercy will rebuild with 327 inpatient beds with a possible expansion to 424. Plans include medical, surgical, critical care, women's/children's (labor, delivery, recovery and postpartum rooms), behavioral health and rehab.
Selecting a site, according to hospital officials, included their contribution to the rebuilding of Joplin, providing room for growth, allowing easy access, having pleasing and convenient topography and providing for minimal grading and concern for land retention. No mention was made as to whether the hospital would be built "green."
Britton said that the plans to break ground will be in January 2012. The new hospital, as well as the secondary campus on original land, will open in 2014.
A news release reveals that Mercy--Sisters of Mercy Health System--is the eighth largest Catholic health care system in the U.S., serving more than three million people annually. Mercy includes 28 hospitals, more than 200 outpatient facilities, 38,000 co-workers and 1,500 integrated physicians in Arkansas, Kansas, Missouri and Oklahoma. It also has outreach ministries in Louisiana, Mississippi and Texas, the release said.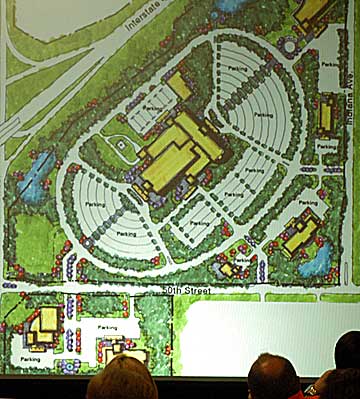 An audience in the Holiday Inn's Grand Ballroom view a slide of the proposed St. John's Mercy campus--a new location for construction made after realizing that the original site, destroyed by Joplin's May 22, 2011 tornado, was too close to the only full care hospital that survived the storm.
Photos by Vince Rosati