Bidding for Sheryl Crow's roadster tops estimate
August 21, 2011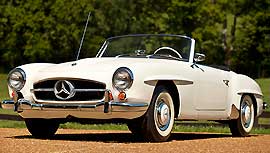 The vintage car, pictured at right, a sexy white convertible with a 1,897 CC SC 4-cylinder engine, that singer Sheryl Crow bought in 2005 that became a family favorite was auctioned off today (Aug. 21, 2011). The winning bid was $143,000.
The Grammy Award-winning artist allowed Gooding & Company of Pebble Beach, CA to auction off her 1959 Mercedes Benz 190SL Roadster to the highest bidder without reserve with net proceeds donated to the Joplin Schools Recovery Fund of the Community Foundation of the Ozarks. The bid came in at least $60,000 over its top suggested appraisal.
The car described as an "iconic grand-touring convertible" underwent a comprehensive restoration completed in 2005. It was sold with fresh brakes, suspension, a reconditioned Becker Mexico radio with speaker and a new interior of black leather upholstery. Accompanying the car was a signed Sheryl Crown Signature Edition Gibson acoustic guitar and two backstage passes to a Sheryl Crow concert of the winning bidder's choosing.
"After the tornado in Joplin I was moved to help rebuild a city so close to where I grew up in Missouri," Crow said.
In a former interview Crow said she grew up in Kenneth, a town sitting right on the Arkansas, Tennessee and Missouri border in "the Bootheel." She described it as a very quiet place that had revolved around a town square with a courthouse, a very strong "God-fearing" community where pretty much everyone knew everyone else.