Springfield area castle is cutting-edge
September 22, 2011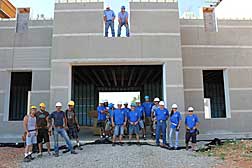 Handling the day to day operations in the construction of Pensmore, a 72,000 S/F residence in Highlandville, MO is the owner's brother, Joe Huff of Huff Construction, Inc. of Ozark. The crew required for this undertaking certainly helps Missouri's employment numbers. (Photo compliments of Pensmore, LLC)
A Norman French-style castle (72,00 S/f) is moving along in the process of being built in Highlandville, MO, high on a hilltop on a 500-acre site in the Ozarks. It is in Christian County and part of the Springfield, MO metropolitan area. Pensmore ("think" from the French and "more" from the English), the fourth largest house in the US, represents a variety of cutting-edge green building technologies. It is expected to be completed in 2013 and will be the second home of software entrepreneur Steven T. Huff of Leesburg, VA. In fact, restrictions to the property mandate that the structure may only be occupied by one family at a time.
Interior plans call for two elevators, 15 bedrooms, 14 bathrooms. The garage alone accounts for 4,000 square feet. And a 1,600 square foot library and 1970 square foot great hall are two-story.
According to his original alma mater, Huff, connected with the Central Intelligence Agency, founded Sensor Systems and in 1993 working with chip-maker Intel created the software needed to interpret and manipulate satellite data used for spying. According to Bloomberg's Businessweek, Huff serves as vice president and chief technology officer of Overwatch Geospatial Operations and vice president of Overwatch Systems, LLC (of which Sensor Systems became a part) and is responsible for the strategic directions of new products. In 2006, according to Textron Systems' website, Textron acquired Overwatch causing it to become a Textron Systems Company.
Huff, a billionaire, also bought TF Systems, a supplier of insulated concrete forms being used in construction of his high-tech home. He hopes that the home will be a showcase for the concrete's capabilities.
Huff is a member of Phi Beta Kappa. He graduated Summa Cum Laude with a Bachelor of Science in physics from Hampden-Sydney College just outside of Farmville, VA. He also received a Master of Science in physics from the California Institute of Technology in Pasadena, CA.
For more details about the construction go here.