Humdrum plays at Blackthorn
October 07, 2011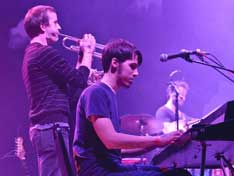 (Photo by Corey Woodruff)
Humdrum, an experimental melodic indie-rock band from St. Louis, will be playing at Blackthorn Pizza & Pub on Saturday, Oct. 22, 2011, at 9 p.m., with Joel McPeak (St. Louis, formerly Joplin), Eli Chambers (Joplin) and James Marcum (Joplin). Cover is $5.
Since its birth in 2008, Humdrum's sound has evolved into a melody-driven mixture of acoustic guitars, experimental synths, gripping rhythms and delay pedals. Their latest album, The Arrangement, explores possibilities ranging from danceable songs about robots, to waltzes about the meaning of existence. The album lives up to its name thanks to cleaner arrangements, a tighter focus and more melodic hooks.
According to the Riverfront Times, a song such as Silence, which comes around the midpoint of the 11-track disc, illustrates the band's development: "The lilting, ballad-like tempo continually builds by smartly adding rhythmic elements one by one, as self-harmonizing vocals ride the crest of the wave."
"We had a blast last time we played in Joplin and we were very well received," said spokesperson Phil Strangman. "We're looking forward to playing Blackthorn again. They were very kind to us last time around. We hope everyone who was there last time comes back and brings a friend. It was one of our favorite tour stops in 2010."
Humdrum is rapidly gaining popularity in the Midwest, sharing the stage with Josiah Wolf (WHY?), Julie Doiron, Samantha Crain, Miniature Tigers, Jill Sobule, John Doe, Jookabox, Venice is Sinking, Paleo, Yourself and the Air, So Many Dynamos, and Theodore.
Blackthorn Pizza & Pub is located at 510 S. Joplin Ave., Joplin. Hours on Saturday are 4 p.m. to 1:30 a.m.
Wanting Silence? Go here.