Ten families to benefit from Habitat's program
October 14, 2011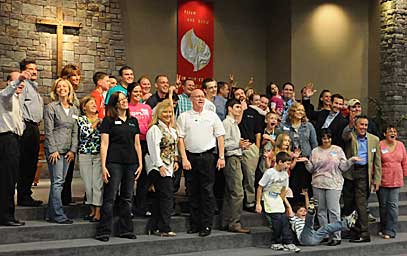 The families selected in Habitat for Humanity's Ten for Joplin project demonstrate their individuality while posing for a group picture.
JOPLIN - Company sponsors got the opportunity to put a face to their contributions during a meet-and-greet event last night at Christ's Church for the families selected in the Ten for Joplin project. The project's goal is to initiate neighborhood development as community partners work alongside Joplin families who lost their homes during the May 22, 2011 tornado.
The Tulsa and Joplin Area Habitat for Humanity teams, surrounding businesses and the city of Joplin are partnering on one of the most aggressive rebuilding efforts since May's devastating EF-5 tornado. The Ten for Joplin project team plans to build 10 homes during a 16-day period beginning October 29, 2011.
Ten for Joplin's vision is to ignite volunteer efforts to rebuild Joplin by setting an example of what can be accomplished when businesses and communities come together to help one another. Forty family members will have a place to call home by Thanksgiving after being chosen in a selection process based on their need for improved housing, their willingness to partner with Habitat and their ability to repay a zero-interest home mortgage. Most Habitat mortgages are 25-30 years and require approximately $270 monthly plus taxes and insurance.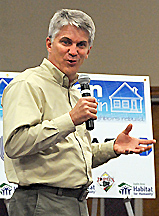 "This is a great moment, a time when we realize and see our mission firsthand," said Paul Kent, pictured at left, executive director of Tulsa Habitat for Humanity. "It really is all about the families and helping them have a new start."
Chris Jones, a member of the Board of Directors of the Tulsa Habitat for Humanity and director of materials management for Hilti, a manufacturer of professional tools and fastening systems, credited Cary Evert, president and CEO of Hilti's Western Hemisphere operations, with initiating the project that Jones has been named to coordinate. He described Evert as being a man very dedicated to building a better future for others and deeply impacted by the devastation he had seen in the Joplin neighborhoods. Not unfamiliar with contributing to the Tulsa Habitat for Humanity's efforts, Evert got the ball rolling by encouraging a meeting between the Tulsa and Joplin boards and Mark Rohr, Joplin city manager. Jones called the project "unique for cooperation, unique all around."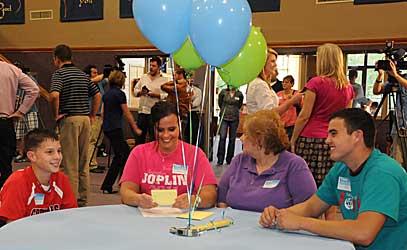 "I can't believe it. We are really blessed," said Michelle Hale, pictured here with her two sons and her mom, who said she was just there for "support." Hale said she was given an application to apply for the Ten for Joplin project by a friend. She said she was overwhelmed when she and her family were chosen, a reaction that seemed to embrace everyone.
The 10 families chosen are:
Carrie Cook, a traffic assistant, and her sons Zachary, 8, and Aiden, 7, who rented a three-bedroom apartment that was completely destroyed by the tornado
Mindy Pullun, who works in sales, and her three children Jotham, 12, Joab Timothy, 8, and Jubal, 6, who lost their apartment and were forced to live in a church
Life-time Joplin residents Anita Stokes, 56, a hospital employee, and her son Steve, 30, who lost their home of 26 years and both of their vehicles, who sought shelter with relatives before moving into a garage apartment
Michelle Hale, who works in quality control. and her teenage sons Tyler, 18, and Trevor Walker, 15, who lived at the devastated Hampshire Terrace Apartments near Dillon's, who stayed with friends before relocating
John Winnett, a local chef, and Juanita Travis and their three children Jazmin, 6, Maurice, 5, and Maliah, 4 months, who was born one week before the tornado, who all initially lived with John's brother
Chris Goebel, a machinist, and Marti Goebel, a hardware store employee, and daughters Grace, 7, and Emma, 5, who lost their trailer to the storm and were living in a friend's den
Jeni Klopfenstein, a factory worker, and her children Stormi, 15, Hunter, 13, and Hannah, 11, who lost their home and had to relocate to other part of town creating logistical difficulties for getting the children to school
Emily Henson and Cortney Moore, a chef, and three children Zachary, 5, Alex, 2, and Bradley, 1, who are all Joplin natives
Thomas Short, a delivery man, and Samantha Thurman and four children Gavin, 4, Chloe, 3, Kenna, 2, and Morgan, 6-months, who lost their two-bedroom apartment to the storm
Steve Campbell, a restaurant manager, who became a single Dad with three sons Austin, 9, Jordan, 7, and Caleb, 5, after he lost his wife to the storm, who are currently living with Steve's Mother
(Families that are currently living in FEMA mobile homes include the Pulluns, the Hales, the Winnett/Travis family and Short/Thurman family.)
Contributing
About 3,000 volunteers already have been organized. They and others who wish to volunteer will take part in the construction of ten homes in an area on and around Kentucky Avenue in Joplin on lots purchased in part through tornado relief funding provided by United Way. Foundations for the 1100 square foot three or four bedroom homes already have been poured, slightly ahead of schedule to allow the material to cure.
In addition to a community developer sponsorship from the Habitat for Humanity International's Women Build program, companies sponsoring houses are The Anne and Henry Zarrow Foundation, Arvest Bank, BKD CPAs & Advisors, Chase, Hilti, Samson and TD Williamson, Inc. Advanced Industrial Devices, Inc., Unit Corporation and Valley National Bank have signed up to sponsor half a house. Other sponsors include Asbury United Methodist Church, William T. Kemper Foundation and Williams. A full house sponsorship is $77,000.
Funding of $800,000 and gift-in-kind support is needed for the 10-house blitz build. To date, Ten for Joplin has secured $662,000 in cash donations and approximately $200,000 in in-kind gifts toward this goal.
To donate funds or find out more about volunteer opportunities on the Ten for Joplin website go here. The site also features videos and news about the project as well as general information on the overall build.
--Jane Dunbar, director of development Tulsa Habitat for Humanity, contributed to this article.