First Extreme Makeover family is revealed
October 19, 2011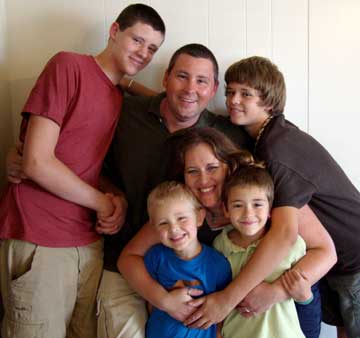 THE HOWARD FAMILY
Apparently the executives at "Extreme Makeover: Home Edition" are releasing the names of the seven families who have been awarded new homes at their discretion. According to a release sent early this morning their first door knock was at the home of the Howard family. The knock came with fanfare. On hand was "Good Morning America's" weather anchor Sam Champion broadcasting live. Some ABC viewers may have been surprised by the coverage.
As is the policy of the show, the parents and children from all seven of the Joplin families have been or will be flown to Walt Disney World Resort in Orlando, Florida, while "Extreme Makeover: Home Edition" team leader Ty Pennington, designers Paul DiMeo, Paige Hemmis, Michael Moloney and Tracy Hutson, along with Sam Clifton from Millstone Custom Homes who is lead builder for 21 Builders and approximately 10,000 Volunteers and community volunteers, build the structures.
About the Howard family
The release said: "Kyle Howard, the father and a Joplin fireman, was at work at the fire station during the storm and spent the first two hours after the tornado not knowing if his wife and four kids had made it out alive. He made many stops along the way home, through the rubble, rescuing trapped victims and tending to injured members of the community. Meanwhile Jill and their four children, Keenan, Konnor, Korbin, and Kaleb huddled in a closet. A door landed on top of them, which they used to deflect the debris. This ultimately saved their lives. After the storm, they had no idea if Kyle was alive, but eventually, the whole family was reunited. Jill sustained minor injuries, and their home was completely destroyed--but they're grateful that it wasn't any worse than this."